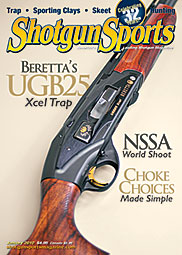 Shotgun Sports magazine is looking for articles on trap, skeet, hunting, sports clays and 5-stand.
Hunting articles can include the following topics: upland birds, large game, small game, waterfowl and turkeys. Readers consider these to be the toughest targets: deer, grouse, waterfowl, quail, turkeys, chukar, pheasants and elk (not often taken with a shotgun, but it can be done), so they'd like help with those.
"When you are writing about clay targets, these are the ones they say they most need help with: rabbits, dropping targets, long, flat crossers, chandelles, battues, long, fast crossers, hard rights, straightaways in the wind, teal, trap doubles, and very slight angles that look like a straightaway and, of course, the mental side of the game," editor Linda Martin says. " The non-competitive shooters just want to know how to have more fun and beat their own personal best."
She said readers want more reloading advice, gun-cleaning and maintenance tips, and advice that will help non-competitive and new or struggling shooters improve. They'd also like tips on how to overcome those one or two targets that seem to be keeping them from moving ahead.
Email your stories to her for the 2010-2011 Shotgun Sports schedule