Internet marketers are hawking thousands of products that promise to help you promote yourself and get rich quick—AFTER you pay, in some cases, several thousand dollars for the how-to information.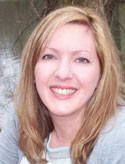 I just discovered one of those how-to products that's perfect for Publicity Hounds, but at a paltry $10. It just might be the best money you've ever spent.
It's a 13-page report called "Easy 7-Step Fast Cash Strategy, written by Lynn Terry, who I met at a members-only convention hosted by Stompernet, the Internet marketing membership site, earlier this year. (Sorry, but membership in Stompernet is currently closed.)
Lynn's report teaches you how to market a special report that you've written for a niche audience, even if you don't have a website, shopping cart, or email addresses of people who have given you permission to market to them. Most Publicity Hounds I know would love to create info-products for their niche, but they abhor the thought of creating a website, processing the payments or delivering the product.
Lynn suggests that you write a content-rich report that walks people through the steps of how to solve a problem, similar to the 52 special reports I sell on publicity-related topics.
You can give away the report as background information for journalists, or for your favorite clients and customers. But Lynn suggests you sell it to the public like she's doing so you have an additional revenue stream.
The only 2 things you need
You only need two things: a PayPal account and an email address. I recommend the report for:
—Anyone who has written a book and is looking for a fast, inexpensive product to create so they can upsell their readers to something else.
—Anyone who has written a book and wants a low-price product that catches the attention of people in a particular target audience who also might be interested in the book.
—Publicity Hounds who want to promote their expertise and demonstrate their ability to solve problems. If people love the report, they might be inclined to hire you at your hourly consulting rate.
—Speakers who are trying to get paid gigs in a particular industry. Rather than cold-calling meeting planners, you can market the report to a niche, and then include in the report information about topics on which you speak. I'd even go so far as to suggest that within the report, you mention that readers who would like to hear you speak at a live event should contact meeting planners at their trade associations and hire you for their next event, assuming you're a good fit.
—Anyone in PR who wants more clients. That includes book publicists, PR agency people and sole-proprietor publicists. Write a report on how to a solve a particular publicity problem. Many people don't want to do their own publicity. They'd rather hire someone like you.
—Small-business owners who can explain within the report a problem and solution that relates to a product or service they sell. The report can generate leads that turn into paying customers.
In some cases, you can create the report and start selling it in well under a week. And if you have questions, go over to Lynne's discussion forum where she'll be happy to help you.
From drug store manager to Internet marketer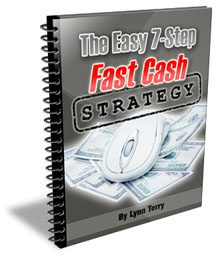 Michael Brown of Howard, Ohio, one of Lynn's customers, quit his day job managing drug stores earlier this year and started his own Internet marketing business selling information products after he read Lynn's Fast Cash Strategy report. He followed her step-by-step instructions, created a special report, and marketed it exactly as she explained.
Initially, he sold 300 copies of the $10 report. He then expanded the report into a $47 ebook and sold 1,200 copies. Total income from both products: $59,400. Since then, he has created dozens more reports and other information products and sells them from his website, TheProfitHQ.com.
While reading the report, my "ah-ha" moment came when Lynn explained how to quietly sell your report at a few specific websites, and then generate feedback and testimonials which you can then use during the product launch.
Michael says his "ah-ha" moment came when he read on Page 13 the exact wording you should use, including the subject line, when you're emailing someone to introduce yourself and suggest they join you in a joint venture to market the report.
"That was a good starting point for me," Michael said. "It's one thing to create a product but something altogether to try to round up people to help you promote it."
Today, his business has grown to include managing two membership sites.
Get Lynn's report. Read it, choose a topic, write your own report, and then get started marketing it to people who are searching right now for helpful solutions to aggravating problems. Who knows? You just might be able to quit your day job.