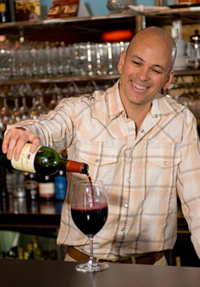 This week's Help this Hound question is from Timothy Nishimoto, owner of
Vino Paradiso Wine Bar & Bistro
in Portland, Oregon:"I'm in a PR quandry.  I hope you and your readers might be able to give some advice.    
"Several months ago, you
posted my first question
 in Help This Hound, asking how I could capture media attention for the food at my wine bar (we just celebrated our sixth anniversary) so that the community of Portland will know that we are not just a great place for wine, but also for dinner.      
"One reader suggested we change the name of the business to reflect a focus on food.  This is something I'd thought about for a few years, but that comment has stuck with me, and now I am ready to take the plunge and change the name, the focus of the food program, and our chef, who starts this week.           
How to Create a Buzz?
"My question is this: What would you suggest I do to create a buzz before we actually execute these changes?  I would like to treat this much like a new restuarant opening. But, of course, this is much different than many restaurant openings.  We are hoping to capitalize and build on the great reputation we've gained over the past six years.      
"I know that creating a buzz before you open a business is key, but the PR Buzz Game has changed so much since I opened my place, with social media and food blogs now being so influential in that game.  Has anyone out there attempted a transition similar to mine, created a buzz, and become successful with it?  I do have a brilliant idea, but more about that later.     
"With regards to press releases, I know that good timing is essential.  I understand that creating a buzz before any changes happens is kind of key, too.  My chef starts this week, but he is not comfortable putting it out there until he has the food totally dialed in.  I have used social media to spread the word that we have a new chef, and there is already some buzz, but I want to generate a louder buzz.           
Emphasis on Italian Food
"The changes will include the new chef with a pedigree—a focus on the cuisine of Piedmont, Italy—and the name change, which brings me to my PR idea.    
"I would like to sponsor a contest to find the perfect name for the business, and offer $500 plus a $100 dinner certificate to the person whose name we end up using.  I think all of the local restaurant/food bloggers would end up writing about the contest. I'd also give them our press release explaining why we're making the changes, and details of the contest.  Who wouldn't open that press release with the hopes that they can win an easy $500?  This would create a buzz, I think, because anyone who submits a name will be waiting with anticipation, right?    
"The main question regarding the press release is when I should release what information?  Does it all have to be at the same time? Or should I leak a little at a time?    
"I hope you can help!"