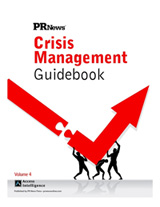 One of the best ways to promote your expertise and solidify your  brand is by finding your way into other people's books.
Here's an excellent opportunity for PR, marketing and communications experts to do just that.
PR News is looking for contributors for the latest volume of its "Crisis Management Guidebook."
It wants  strong crisis management and abatement ideas, in the form of how-to, anecdotes and case studies, for these chapter categories:
Overview: Focus on Research and State of the Industry
Media Relations
Internal Communications
Issues Management: Public Affairs, Labor, Legislation, etc.
Social Media
Litigation PR
The Crisis Plan
Case Studies 
Using the subject line "Crisis Management Guidebook," explain each article idea in 50 words or less and email them by Sept.  6.
If you're in a LinkedIn group that would be interested in this, or you have PR or marketing people who follow you on the social media sites, please share this post.