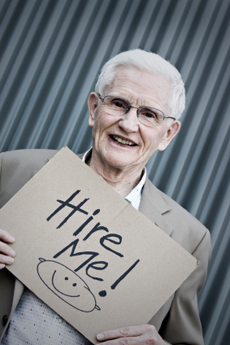 I love reading stories like the one about the 91-year-old woman newspaper carrier who shows no signs of stopping in Wichita Falls, Texas.
That got me thinking that there might be a very simple pitch that's staring you in the face.
Does your company employ people in their 80s and 90s?
If so, ask their permission to pitch them to the local media and include in your pitch an interesting angle. TV, in particular would love this story if you can create some decent visuals. This is a perfect tie-in to stories about the monthly unemployment rate in the U.S. Or increasing the age for Social Security benefits. Or tie it into any other news story about employment trends.  
Be ready to offer details about your elderly employee:
Does she have and use a cell phone? Does she text?
Does he wear athletic shoes and walk on his lunch hour? Bring his dog to work? Offer advice to younger workers?
Tweet? Use Facebook? Connect with others on LinkedIn? If so, what groups is he in?
What can the older employee do that many younger employees cannot? Does he have a good attendance record? What does he like best about his job? What advice does he have for people in their 50s and 60s who are on the fence about retiring? 
Nonprofits, Look Around 
If you're a nonprofit, you might have volunteers in that age bracket who donate their time to stay young, stay spry, spread joy and give back. This includes older volunteers who go into schools to read to children and help teachers with other tasks. It also includes the many older people who volunteer at hospitals. 
A volunteer who has been with you for many years and will be working at an upcoming event you're hosting could be the ideal angle for some pre-event publicity. That's one of the tips Debra J. Schmidt and I shared when we recorded How to Plan & Promote Sizzling Special Events.
Here's another twist on my idea: Let the media and bloggers know when you've hired someone in their 80s and 90s. What are the advantages of older workers? Where do you find them, or are they inundating you with job applications?
Have you pitched ideas like these? If so, share the link so we can see the results. 
What other ideas do you have around this theme?