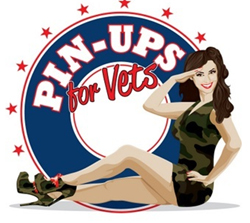 Gina Elise of Redlands, Calif., writes this week's Help This Hound question:
"I am the Founder of Pin-ups for Vets, an award-winning non-profit organization that supports hospitalized veterans and deployed service members.
"We produce World War II-style pin-up calendars that raise money for hospitalized veterans. We use the money to buy rehabilitation equipment to help our veterans in their physical, occupational and cognitive therapy sessions. Although we have won a number of community service awards, we have never been funded. We're using hundreds of volunteer hours to keep the organization operating. 
"Our biggest challenge has been to get the word out there to the rest of the U.S. about our small organization with the big heart so we can help more wounded warriors . 
"As the 1940's-style calendar girl in the Pin-Ups for Vets calendar, I have made thousands of personal bedside visits to ill and injured vets in VA and military hospitals across the U.S. and overseas to present the donated calendar gifts from my supporters . The response to the hospital visits has been overwhelming!
"We would love to find a way to spread the word about our organization and have had some publicity on FOX news, in Stars & Stripes and in other media, but we need more. We can't afford a publicist right now. Can your Publicity Hounds give us some ideas on how to spread the word about what we're doing so we can sell more calendars and help more injured vets?"