Trust me when I tell you that a media list chock full of juicy personal details about a journalist or blogger can be your ticket to publicity.
BL Ochman agrees. She's a social media expert and a prolific blogger who writes about online promotions.
On Friday, she wrote about a pitch she received from Rob Toledo of Distilled Creative, calling her attention to a social media campaign roadmap. BL, who has seen her share of lame pitches, was bowled over by the personal details about her that Rob, whom she doesn't know, included in his pitch. Impressed, she wrote a post  titled Dear PR Peeps: please read this *really great* PR pitch! (And what he was pitching). 
BL analyzed Rob's pitch to show you exactly what made her pay attention. The screenshot she used at her blog is a little difficult to read, and she gave me permission to reproduce it here: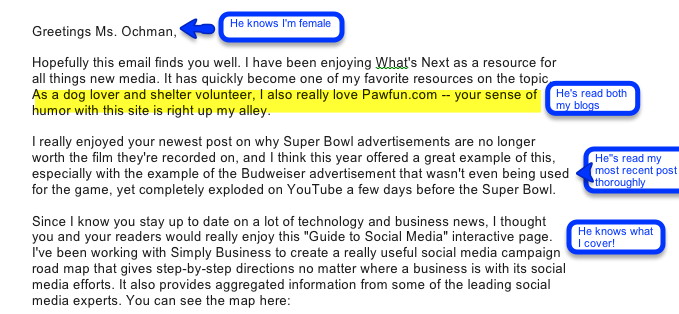 Her post illustrates my point perfectly.
Spend just 10 minutes or so researching a blogger or journalist BEFORE you pitch, let them know you are familiar with their work, and you'll be miles ahead of all the other people who are too lazy to bother.
BL's high-traffic blog is the perfect place for an item about Rob's social media page. I subscribe to BL's email updates, and when she alerted me to her post, I knew immediately that it was a perfect item for THIS blog. I write about great pitches in my ezine, too, and I'll be including a mention about this post in "The Publicity Hound's Tips of the Week" on Tuesday. So Rob is getting THREE hits for the price of one.
See? I told you it pays to research.
I receive pitches like the one BL received so seldom, that when I do, they really command attention. What have you done recently to bowl over a blogger or journalist with your knowledge of who they are, what they cover and what their readers might like? 
If you want to start building your own media database of contacts and know what to include in it that the big, expensive directories don't, be sure to read 3 critical elements to include in your email database. You an also access the video replay of the webinar I hosted on Feb. 16 on How to Create Your Own Database of Valuable Media Contacts.
Update: Other Blog Posts That Will Help You:
How to research reporters and other media contacts
Want publicity in magazines? Research, then pitch 
Find the name of a blogger's dog, cat or kid in 60 seconds