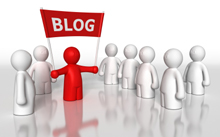 When I spoke last week at the Meetup hosted by the Wisconsin Business Owners Network, the audience couldn't get enough information on blogging.
And tomorrow, when I speak about social media to a CEO Roundtable at the Milwaukee Athletic Club, I hope to convince at least one CEO to start a blog.
But I'll need success stories.  And that's where you come in.
I'm curious about the one post you've published that makes you glad you started blogging. 
Did you take a strong stand on a controversial topic and start a brawl in the Comments section?  Did you write something that brought you a new consulting client?  Or sold dozens of books?  Or started a relationship with someone who has turned into a trusted business friend? Or got a link from a top-tier blogger in your industry?
If you're on Facebook, please share a link to the post on my Fan Page.
And then share it in the Comments section here. I'm planning more training on blogging next year, and I'd love to use your own success story as an example.