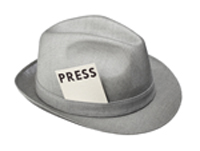 If you're a blogger and you're covering news events in New York City, you're now able to obtain a press pass.
FishbowlNY reports that City Hall will now issue press passes to online journalists to cover events where the public is denied access.
Under the proposed new rules, an applicant must show that he or she has covered, in person, six news events where the city has restricted access, within the last two years. The new rules cover employees of traditional news organizations as well as self-employed journalists and others who report the news.  The new press card will be issued every two years.
I've written before about phony press passes, used mostly by freeloaders trying to get into events for free food and entertainment.
New York City's decision is a huge victory for bloggers, even though it resulted after a lawsuit. Let's hope other cities extend the same courtesy.
Not everyone agrees. Twitterer @Bert_deVolontat calls it "a lack of respect for professionals."
What do you think? Should bloggers and other online journalists receive press passes?
How does your organization deal with this issue? Do you let bloggers attend for free? How do you ferret out the phony journalists from the legitimate ones?