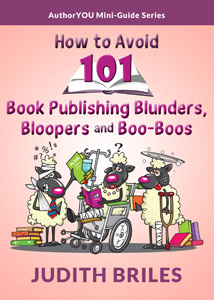 What are the worst mistakes authors make when publishing their books?
Don't get book shepherd Judith Briles started. She'll go on forever. 
Instead, get her new book, "How to Avoid 101 Book Publishing Blunders, Bloopers & Boo-Boos" and read it, even if you're just thinking of writing a book. The earlier you learn about all the land mines, rip-off artists and ways to waste money, the better off you'll be. (Paperback, $18.83; Kindle $5.99.)
Full Disclosure: Judith is a business associate and a friend. I speak at her annual Author U Extravaganza,  Sept. 15-17 this year. I'm a faculty member on the Publishing at Sea cruise Judith started hosting four years ago. Much of what I know about publishing I've learned at both of these events, and from several of her more than 30 books. 
Why Authors Need This Book
Many authors who call me to help with their book launches are mortified when I mention one of the following six mistakes, some of the major ones I see among the dozens that authors make. Judith covers all of them in "Blunders, Bloopers & Boo-boos."
The ideal time to learn this is before you write the first word of your book.
1. Your cover looks amateurish.
Many authors "know somebody who loves to draw" or "has fun with Photoshop." But unless they are professional book cover designers, don't pay them to design yours, especially if you want your book distributed to bookstores.
Your book MUST look like it belongs with all the other books on the same shelf.  
"Of the 18 books I published with New York traditional publishers, there were only two that I liked—that I was proud of," Judith writes. "Some were so bad, I would apologize to my audiences from the stage when I spoke to groups. You don't want to be in that spot."
The best professional cover designers, she says, know how to hook the reader with compelling mages and a complimentary font. Interior designers use callouts, white space, subtitles, chapter lead-ins and other graphic elements to make the copy easy on readers' eyes. 
You'll find many of same elements, by the way, in "Blunders, Bloopers and Boo-boos," making it a quick, breezy read.  The whimsical sheep illustrations are featured in several of Judith's books.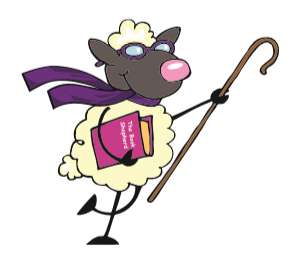 2. You hired the wrong people.
Many authors know somebody "with an  English degree" or a friend "who loves to read." You don't want them marking up your manuscript because they probably know zilch about book editing and how to improve the writing.
So what if your cousin "loves to fool around with the camera on his iPhone." He shouldn't be taking your professional author photos with it.
A printer is a printer is a printer. Right? Wrong. A printer who specializes in children's books might botch your mystery novel.
Judith spends a good deal of time guiding you with tips for finding the right vendors.
3.   Sorry, but you are NOT marketing to "everybody."
If you're marketing to everyone, you're marketing to no one. That's because it's impossible to reach everyone. Besides, only a small sliver of the population will be interested in your book.
The secret to saving time, saving money and hitting the target, Judith preaches, is niche marketing—promoting only those people who are you ideal readers.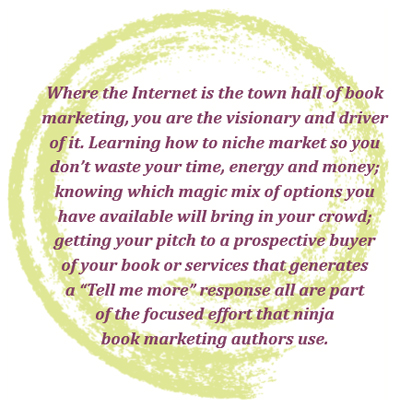 4. Your forgot about your ebook.
"If you have a print book, you want an ebook as well." Judith writes. That means you must know the correct format ebook distributors require.
You must know how to use coupons along with free and promo days. And you must understand the ebook no-no's that can get you an Amazon warning and a slap down.
Judith gives you several options for ebook formatting and offers a piece of advice that's like gold, even for DIYers: "Unless you are adept at conversion or it's a fun thing for you to do, use your time to promote and market your book."
5. You waited too long to start reaching people via social media, and now it's too late.
This happens frequently with authors who seek my help. Judith's too. They immerse themselves in writing their books and, by the time they're done, they're exhausted. So they go on vacation when they should be knee-deep in a marketing campaign.
Chapter 54 is titled "Get Started Early and Engage Often via Social Media to Market Your Book."
If you're planning to do any type of publicity campaign with your book, don't be surprised when a TV producer asks you, "How many Twitter and Facebook followers to you have?" A following of several thousand people on both sites can take at least a year or more.  Ideally, you'll start on social media a full two years before you publish.
Judith gives ideas galore on which sites you should consider. You'll find advice for building your social media profiles, using keywords and hashtags and sharing valuable content like a social media boss.

6. Sorry, but you can't concentrate only on big media.
Don't expect "Ellen" and "Good Morning America" to come calling. It's too difficult to get onto those shows, and you shouldn't even be trying unless you've done a lot of TV appearances in smaller markets hwere you can learn from mistakes. 
"There are thousands of other venues that are a perfect fit for your topic," Judith says. 
Those include Internet shows and podcasts, online news resources in your  community, event calendars, and shows that feature authors and books. Don't forget about any media that feature experts.
She recommends authors newsjack. That means injecting your topic into the breaking news stories. The best paper to read for what's in the news that day is USA Today. It's the same paper hundreds of TV news departments read to get many of their stories. Get the USA Today app here and Android apps on Google Play.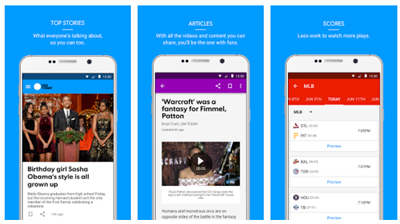 "How to Avoid 101 Book Publishing Blunders, Bloopers & Boo-Boos" is a perfect holiday or birthday gift, even if your favorite author has already published. The plethora of online tools make it drop-dead easy for authors to publish multiple books. If their first book—or yours—resulted in wasted money and time-sucking tasks, don't let that happen the second time around.