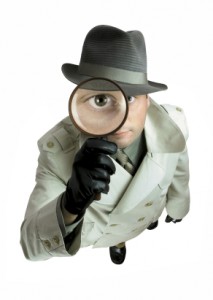 Stop waiting for your ideal customers and clients to invite you to connect with them on LinkedIn.
Go find them!
LinkedIn's Advanced Search feature is like having your own Lt. Columbo right at your fingertips.
And it could very well be the most powerful feature on the world's largest business networking site.  If you know how to search correctly, your efforts just might lead you to a company that's looking for what you're selling.
Tracking Down Leads
Wayne Breitbarth, who sells office furniture in Milwaukee, told me two amazing stories of the Power of Advanced Search.
His company used it to track down a Milwaukee company that needs to buy a truckload of office furniture.  One thing led to another, and now Wayne's company is vying with one other vendor for the contract, thanks to LinkedIn.
In another instance, one of Wayne's friends who sells promotional items was trying to get into a sizable company in the Madison area for years but direct mail and phone calls proved futile.  Using LinkedIn Advanced Search function, Wayne was able to track down the correct department that was looking for vendors.
But who within that department was the right person to contact?  Advanced Search to the rescue once again!  He found the right person, and his friend was able to submit a bid for a $1 million contract.
Wayne has become such an expert on LinkedIn, that he'll be speaking at Inc. magazine's Growco conference in Las Vegas in April.
Learn Advanced Search and More
He's also agreed to demonstrate how to use Advanced Search, and many other LinkedIn features, when he's my guest during a webinar at 3 p.m. Eastern Time on Thursday, March 3.  It's called Your LinkedIn Power Formula: How to Make Killer Contacts, Pull Crowds to Events, be a Star in Your Industry & Track Down Leads Like a Bloodhound.  His handouts include 12 ways to use LinkedIn to promote live or virtual events.
Learn more about the LinkedIn webinar, how to register and how to participate.  If you have questions about the program, ask them here in the Comments section.