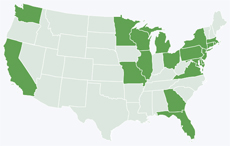 Here's another website to add to your media list consider if you want publicity for local news.
It's Patch.com and it already covers more than 600 communities and neighborhoods in California, Connecticut, Delaware, District of Columbia, Florida, Georgia, Illinois, Maryland, Massachusetts, Michigan, Minnesota, Missouri, New Jersey, New York, Ohio, Pennsylvania, Rhode Island, Virginia, Washington and Wisconsin.
The site, owned by AOL and based in New York, hires professional journalists and contracts with freelancers to cover local news and events, business and government, police and fire news, and more.  Users can submit their own announcements, photos and reviews, and participate in discussions.
Here are Patch's AdvantagesThese have been mentioned in several articles I've read the last few weeks, including this one in today's L.A. Times.
It hires experienced journalists, many of whom have been laid off by local newspapers and are already familiar with the communities they cover.
Patch makes it easy to find whoever covers your community.  Just go to Patch and click on the state where you live, then choose the community where Patch already has a presence.  Contact information for every Patch editor is at the top of every local site.  All Patch contributors can be contacted via email through the local site.
It encourages participation.  Send a news tip, put an event on the calendar or submit an announcement.  If you're a business owner who wants to be listed,  just email them. Update: Submit information yourself via the "add it!" button at the bottom of directory search."
It fills a void, created by the demise of many local newspapers.
Here are the Disadvantages
It pays many journalists far less than what they made before, and Some editors have suffered from burnout and left. Update: Janine Iamunno, senior communications director for Patch, said 3 out of 4 Patch employees make  more money, or the same, as in their previous position.
Critics say it can strangle many other smaller local websites.  But I think competition helps, not hurts, the news consumer.
It needs to make enough money to support all those journalists, and it's growth might be too aggressive.
But you won't hear me complaining.
Do Your Research

Most important: Local means local!  The focus is very specific—news about the community or neighborhood served by the Patch site.
A smart Publicity Hound will want to develop story ideas that are directly related to a Patch.com community.  As always, take the time to review each site before developing the pitch.  Better yet, introduce yourself to the Patch editor.
If you have experience with getting news placed on Patch, or you have other comments to add, share them here.