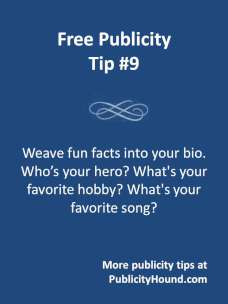 This is the latest tip in a series of "50 Tips for Free Publicity" which I'm pinning on Pinterest. Follow me there, and if you like my tips, comment and repin. Just click the button with the red "Pin It" above.
*     *     * 
 Some of the most interesting people I know write the most boring bios.
If you're a freelance writer or publicist who writes bios for your clients, the best way to find out personal information is to ask your client open-ended questions. If you write your own bio, simply ask yourself the same questions.
Then weave the best answers into the copy. They will lead to a much more interesting bio, and they just might make the reader smile. Start with these questions: 
Who is your hero? And why?
What one event in your childhood had the greatest effect on your life?
If you weren't doing what you do today, what other job would you have?
Who is your best friend and what do you like best about him or her?
What "lesson from mom" do you still live by today?
What's the one thing you want to accomplish before you die?
 If you could spend a week anywhere in the world, where would it be?
What's the most unusual thing in your desk drawer? (Although you might not include this in the bio, it could lead to even more interesting questions and responses.)
Do you have a pet? If so, tell me about it.
What's the worst mistake you ever made in life that taught you a valuable lesson?
What's the most unusual place you have visited?
What's the craziest thing you have done?
 
You can probably come up with dozens of questions like these to add to the list. I'd love to see them in the Comments section, as well as your other tips on how you've written an interesting bio. Please share the link, too.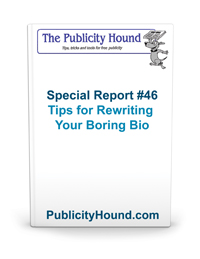 I've been collecting some of my very favorite bios, written in a wide variety of different styles and formats, and I feature them in "Special Report #46: Tips for Rewriting Your Boring Bio."
When you see how clever these writers are, and read my other tips on how to gather information about yourself, you'll be inspired to take a crack at rewriting your own bio. The report was updated this year, along with my other special reports. 
If you rewrite your bio, come back here and share the link in the Comments section.