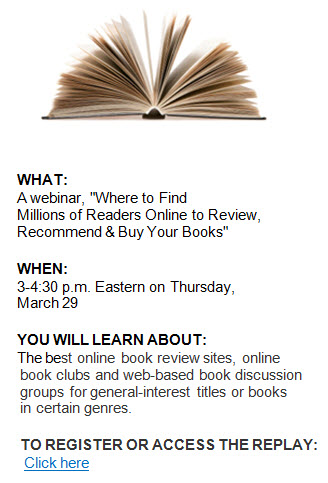 Authors: If you have a book just months from publication, you might be so busy preparing for it that you forget about the websites, magazines and newsletters that librarians read before deciding what books to buy for their collections.
The U.S. alone has an estimated 121,785 libraries. That's a lot of potential customers, and a lot of readers.
One of the best ways to get in front of librarians is to submit your book to be reviewed by one of several publications that librarians turn to for recommendations. You aren't promised a favorable review. But if you get one, you can use it in your marketing materials, excerpt a blurb for your book jacket, or include it on your website.
Here are three very reputable sources for librarians, which I'm discussing in tomorrow's webinar on "Where to Find Millions of Readers Online to Review, Recommend & Buy Your Book." 
Library Journal
Library Journal is written for public, academic and institutional libraries. Its hefty reviews sections includes more than 8,000 reviews annually of books, ebooks, audiobooks, videos/DVDs, databases, systems and websites.
Books are selected for their potential interest to a broad spectrum of libraries. Only a few areas of publishing fall outside LJ's scope: textbooks, children's books, very technical or specialized works (particularly those directed at a professional audience), and books in languages other than English. It will consider bilingual editions.
Library Journal wants to receive materials three to four months before your book is published because its primary goal is prepublication review. It will accept bound galleys, bound page proofs, or bound manuscripts.
Read instructions on how to submit your book. 
     
     
Booklist Online
This site includes 130,000 reviews of books, ebooks, audiobooks, videos and online databases.
Booklist is a book-review magazine that has been published by the American Library Association for more than a century and offers reliable reviews to help libraries decide what to buy and to help library patrons and students decide what to read, view, or listen to. It comprises two print magazines, an extensive website and database, e-newsletters, webinars, and other resources that support librarians in collection development and readers' advisory.
Each year, it receives more than 60,000 requests from authors and publishers who want their materials reviewed.  So follow the instructions carefully on how to to submit. If they review your material, they'll send you a tearsheet. 
     
     
Kirkus Reviews
This magazine gives industry professionals a sneak peek at the most notable books being published weeks before they're released. When the books become available for purchase, Kirkus offers the reviews to consumers in a weekly email newsletter and on its website. Authors must pay a minimum of $425 to have their books reviewed.
The Kirkus Indie program gives independent authors a chance to obtain an unbiased, professional review of their work, written in the same format as a traditional Kirkus review with the same chance of earning the coveted Kirkus Star.
If your book is reviewed, you can decide if you want to keep it private or publish it at no extra charge on their website. If it's published at the site, it will also be included in the content feed to licensees, such as Google, BN.com, Ingram, Baker & Taylor and more. Editors will consider the review for publication in the magazine and email newsletter.
Here are complete submission guidelines.
     
     
More Coming Tomorrow 
   
During tomorrow's webinar, I'll discuss two more sources that target librarians—one that's perfect for romance books and another that specializes in science fiction and fantasy. That's in addition to the many online book review sites, web discussion groups and forums where millions of readers are discussing their favorite books and recommending titles to their friends and to the world. (Update: You can access the video replay here.)
Hope you can join us!