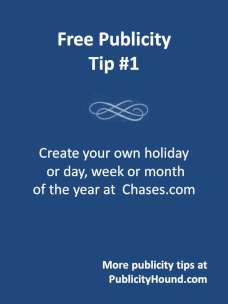 This is the first in a special series of 50 blog posts on the topic of how to generate free publicity.  I'll be pinning each of the 50 tips you see here to my Pinterest board, and I encourage you to follow my 50 Tips for Free Publicity board there. Tweet this link, share it on Facebook and LinkedIn and include it in your blog and ezine: http://pinterest.com/publicityhound/50-tips-for-free-publicity/.
*     *     *
My friend, Jacqueline Whitmore, has made a name for herself as the Cell Phone Courtesy Queen. She's a professional speaker who owns the Protocol School of Palm Beach and has found a way to really establish herself as an expert. Here's how she got herself into USA Today (in the publisher's column!) simply by creating her own month of the year.
Jacqueline writes:
 "I emailed a press release about National Cell Phone Courtesy Month to the editors of USA Today in mid-May. In the release, I announced the holiday and included eight quick cell phone etiquette tips.
 "One of the editors emailed me back to say that my holiday sounded very interesting. I didn't find out that they were actually going to mention it in the paper in Publisher Al Neuharth's column until much later.
"Today, they emailed me a copy of the article to read before it goes to print on Friday. As you know, this is not customary practice, so I felt very privileged. They asked me to send a quote or two so that they could 'pad' the story. National Cell Phone Courtesy Month, by the way, is listed in the 2002 edition of Chase's Calendar of Events. This is the first year it is listed."
That was a decade ago, and Jacqueline has been reaping mountains of publicity ever since.
   
   
Start at Chase's Calendar of Events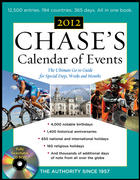 You can create your own holiday, too, and get some DIY publicity. Start by going to Chases Calendar of Events and spending some time looking around at what others have created.
Once you've decided on your own holiday or day, week or month of the year, create an entry and be sure to follow the rules. Entries for the 2013 calendar are no longer being accepted. But your entry might find its way into the 2014 Calendar of Events.
Another fabulous site for registering your event is John Kremer's Celebrate Today, which  is a print and online database much like Chase's. Create an entry by emailing John.  
     
     
National Home Office Safety & Security Week
My friend, Jeff Zbar, also a solo entrepreneur and a small office/home office expert, has his own week of the year. It's called National Home Office Safety & Security Week and it's celebrated during the second week of January. He ties it into "America's Safest Home Office Contest." Jeff also dubbed the Friday before Father's Day as National Work@Home Father's Day and he ties it into the "Why I Work@Home: A Dad's View Contest."
 Before 2001, none of Jeff's days or contests existed. "But in each case, I realized how ignored—and potentially lucrative—the market was," Jeff says. "So I created the dates and marketed the heck out of them. It's really as simple as that."
 On June 15, 2012, Tropical Smoothie Café in suburban Detroit celebrated the 5th anniversary of National Flip Flop Day! It all started back in 2007 as a celebration encouraging customers to kick off summer, and their shoes, by wearing a pair of flip flops. As a simple thank you to their loyal customers, the first 500 people wearing flip flops at each location are given a free 24-ounce Jetty Punch smoothie.
The giveaway generates thank-you's and comments on Facebook. It also helps raise money each year for Camp Sunshine, which helps children with life-threatening illnesses.
 For companies large and small, non-profits and government agencies, creating their own holidays or days, weeks or months of the year attracts all kinds of national publicity—sometimes even more ink and air time than a compelling story pitch, as well as plenty of buzz on the social media sites. If exposure is what you want, pick a day and make it yours. Or choose an entire week or month of the year. Here are examples. You'll easily recognize some of them. But others are obscure:
 Answer Your Cat's Question Day 
National Handwriting Day
 Ham Radio Day
 Avon Representative Day
 We Love Broccoli Day
 World YWCA Day
 National Chiropractic Week
 American Indian Week
 National Frozen Yogurt Week, sponsored by TCBY Yogurt
 International Volunteers Week
 Little League Baseball Week
 National Pest Control Month, sponsored by Orkin Pest Control
 Tahiti and Her Islands Month, sponsored by the Tahiti Tourism Board
 Safe Toys and Gifts Month, sponsored by Prevent Blindness America
How NOT to Create Publicity
Once you've designated a special holiday, do NOT simply contact the media and expect them to get excited about it.
When I worked as a newspaper editor, we'd get occasional calls from people notifying us about an obscure holiday like some of the ones I've mentioned here. Our first reaction was, "So what?" 
The best strategy is to create a special holiday, and then piggyback onto it with a story idea. You'll find lots of examples of how to tie your idea to a pitch, and more tips that will help you generate national publicity, in my Special Report #45: How to Generate National Publicity from Your Own Holiday (or Day, Week or Month of the Year). It was updated recently along with my other special reports.