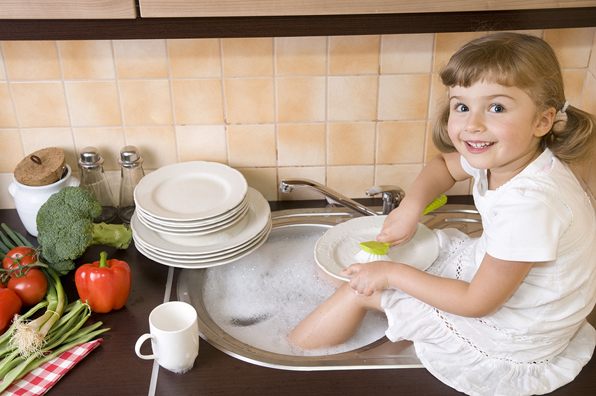 When I can't think of a clever idea for an article that's due tomorrow, and my brain is stuck in neutral, I leave the office in my home and head for the kitchen.
I squirt Palmolive into the sink and fill it with hot water. Then I reach for my scrub brush and start working.
Twenty minutes later, I have my idea!
Sometimes it pops into my head as I'm concentrating on only one task: scraping the dried gunk off the bottom of a casserole dish. Other times, it comes to me when I'm scrubbing the sink with cleanser.
I think of ideas for blog posts, new products, fun promotions and compelling items for my newsletter about free publicity. I think of people to interview, projects to start and clever ways to solve problems that have been bugging me. 
There's nothing quite like a sink full of sudsy water, dirty dishes and some elbow grease to make the creative juices flow.
Why I Don't Own a Dishwasher
When I moved several years ago from a house that had a dishwasher into this one, which didn't, I put off buying one until I remodel the kitchen. That project hasn't happened yet.
But all those ideas have. So why ruin a good thing?
It took awhile—a few years, in fact—to understand that my inspiration comes when I'm in or near water, usually in front of the sink. And washing the dishes, my Number One creativity exercise, is faster and more efficient than driving to the day spa mid-afternoon for a dip in the pool.
Researchers say I'm not alone.
Why Water Makes Us Better at What We Do
Dr. Wallace J. Nichols, a marine biologist and conservationist, has explored the connection between humans and water. He calls it "blue mind," the mildly meditative state our brains enter when we're exposed to water. Scientists have also discovered that the brain, which consists of 75 percent water, prefers the color blue above all others and that water helps us focus.
Why does being on, under or simply near water put us so at ease? Why does it open our minds to creative ideas?
Dr. Nichols says our overstimulated brains filter and process information fed to us on screens that are everywhere—on our living room walls, on our our desks, on our laps and in our hands.
"They're sending information and emitting sounds," he says.
Being at or near water, without a screen in front of us or other distractions, gives our brain a chance to rest.
"But it doesn't go to sleep," he says. "It keeps going and working on your stuff. It becomes creative."
He is the author of Blue Mind: The Surprising Science That Shows How Being Near, In, On, or Under Water Can Make You Happier, Healthier, More Connected, and Better at What You Do.
It combines cutting-edge neuroscience with compelling personal stories from top athletes, leading scientists, military veterans and creative artists. They explain how being near water improves their performance, makes them calmer, diminishes anxiety and leads to their professional success.
Ours too. Here's a clip from "CBS This Morning" that features Dr. Nichols and his research.
Oliver Sacks, a brain researcher and writer, has said he gets his best ideas swimming. He keeps a waterproof notebook nearby on a dock in the lake, or on the side of the pool so he can write down his new theories and ideas. 
Authors and writers, what sparks your creativity?
Artists, what do you keep nearby, inside your studio, that inspires you?
Entrepreneurs, what triggers your ideas?
Scientists, researchers and engineers, if you don't  jump in the pool to spark creative solutions to problems, what do you do? 
The Comments section awaits….