The subject line was irresistible:
Hi Joan, a suggestion for you
I clicked. My eye went immediately to the photo, and I knew she was friendly.
She addressed me by name and said she'd get right to the point. She knew exactly what I covered in my blog because she linked to a previous post about a list of ways to contact Google.
Then she offered me a link to her "more up-to-date list, sorted by service, with multiple options for each service." (Value, value, value.)
She thanked me and signed off with "Best,"
I Was Sold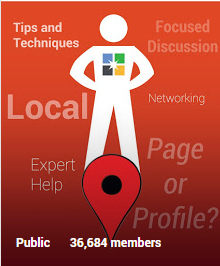 I liked her updated list so much that I replied and suggested she add to it the very helpful Google+ for Small Business Community where I throw out many of my owns questions to the group and receive answers almost immediately.  She did, and she thanked me.
Meet Nicole Kohler, Web Content Strategist for WebpageFX, a full-service Internet marketing company and the 11th best place to work in Pennsylvania.  
I was so impressed with her pitch that I visited her blog and discovered a very helpful post about how to drive sales with effective product photography.
It was perfect for my ezine, and I let my readers know about her tips and linked to them in the Nov. 11 issue.
The Relationship Grows
Curious about how she found me, I asked.
Nicole said she used Ahrefs, a tool that helped her look specifically for sites that were linking to the other "how to contact Google" post. She thought that anyone who liked the other list might also appreciate the updated one she compiled. Then she started investigating and read my blog.
One thing led to another and the next thing I knew, she invited me to be the subject of her company's Q&A interview called InterviewFX . Of course I said yes.
She sent me seven questions and let me choose five. I answered them all. She chose the five she wanted to feature and she's publishing them later this morning and you can read them here. I liked her idea of sharing with you the answers to the other two questions she didn't use.
More about that in a minute.
I want you to use Nicole's pitch to me as a template on how to pitch a blogger. It was very brief, friendly, to the point and helpful.
Often, we're churning out so much content for our blogs and social media that it's difficult to find the time to really drill down and figure out exactly who'd want to know.  The extra time she took resulted in traffic to her blog from my ezine, an interview at her company's blog for me, and more exposure here for Nicole and WebpageFX.    
Here are the two other questions she asked me about my business and getting publicity.
Why I Left Newspapers
Q. What motivated you to leave journalism and the publishing industry to start your own business?
Two things:
First, the pathetic job that the news industry has done over the years teaching people how to use their product. Journalists bitch about receiving poorly written press releases and bad pitches. But few of them do anything about it because they're up against constant deadlines and don't have time.
When I worked as an editor, I welcomed invitations from local service clubs and community groups to speak to them. It gave me a chance to explain things like the editorial calendar and how to know about editorial deadlines before they occurred.
I showed them examples of stories we loved, and described story ideas that fell flat. I told them how to work with us long before their important event occurs, and how to ask for meetings with the editorial board to gain our support for a cause or issue. Another editor in my department created a brochure that explained how to get your news into the paper. People loved it and we reprinted it many times.
If you want proof that newspapers, magazines and other media do an abysmal job teaching people how to use the product, just go to any newspaper or magazine website and try to find the editorial calendar or the "how to pitch us" instructions.
When I was still working as an editor, I can remember thinking, "Someday, if I ever leave this crazy business, I'm going to help people figure out how to do this the right way…."
Second, I saw the handwriting on the wall, long ago, that newspapers were dying. As early as the 1970s, paid circulating was falling. By the 1990s, just before I left, many newspaper editors had morphed from news gatherers to budget cutters. At one job, I was forced to lay off more than 20 people from the news department in only six months.
Newspapers have also been horrible at handling circulation and customer service problems, many of which were forwarded to the newsroom on weekends. For the most part, newspapers have been slow to change and even slower to figure out how to serve niche audiences.
 An Overlooked PR Strategy
Q. What's one way to gain publicity that you think businesses often overlook?
Targeting a very narrow market. Here's why:
–It's so much more powerful than targeting a broad, noisy market because there aren't as many competitors vying for the audience's attention. It's much easier for an expert to become a big fish in a small pond.
–You can customize your message specifically for that audience and provide a lot of value by going deep into a topic with helpful tips that people in that niche can't find elsewhere. Take a look at the iTunes Podcast Directory, for instance. It's a fabulous place to find ready-made audiences for your topic as well as podcasters in narrow niches who are looking for guests to interview. Podcasts include:
• The History of Aviation
• Beekeeping
• Pet Fish
• The Missouri Botanical Gardens Plants in Bloom
• The Polymer Clay podcast
• The Bethel Church Sermon of the Week
How successful do you think experts in any of those areas would be if they pitched USA Today?