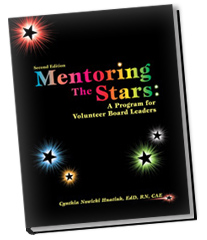 Linda Alexander of Pitman, NJ, writes:
"I work for an association management and publishing company, and we have just published the book Mentoring the Stars: A Program for Volunteer Board Leaders. 
"The book is designed to help new board members on association boards understand their new roles and learn the skills and competencies they need to be a successful board member.  Leadership, decision making, teamwork, strategic planning, effective meetings and mentoring are just some of the topics covered.
"Mentoring the Stars is a great resource for association board members in any industry—nursing, hospitals and health care, education, banking, real estate, human resources, plus church groups, community organizations and more.  While it's great to be applicable to anyone, it's also hard to promote to everyone!
"The book is available on our website and on Amazon. We have done some traditional PR and will be trying some targeted advertising on Facebook, Google and Yahoo.  Can your readers offer any suggestions for ways to promote Mentoring the Stars to members of association boards?"