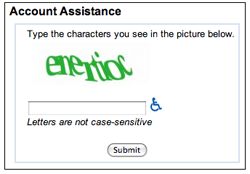 Judith Bron of Spring Valley, NY, writes:
"I'm not the only blind person in the world, nor am I the only one who doesn't have a Facebook account.
"However, I wouldn't mind having Facebook and Twitter accounts or an active LinkedIn account.  The problem is that whenever I go to these sites, I'm asked to identify something visually.  Like the deaf can't hear, the blind can't see.  What can be done with social networking sites to make them accessible to everyone? 
"And does anyone have any suggestions on how I can get around this problem?"