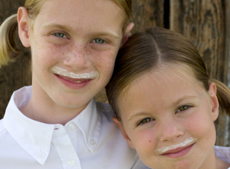 Actress Julianne Hough is teaming up with the national "got milk?" campaign and Seventeen magazine to find nine girls throughout the United States to become the next Milk Mustache stars.
The "Power of 9" campaign emphasizes the power of milk's nine essential nutrients and encourages girls to celebrate the power of looking and feeling their best, which can inspire confidence and help girls reach their goals.
The campaign is looking for girls who "are not afraid to speak up; who are confident; respected, quirky and smart; and know that lowfat milk is an important ingredient for a well-balanced life. "
Watch the video:
    
    
How to Enter
Teens can log onto the site and submit a short video that shows who they are, what inspires them, and why milk is an important ingredient in their lives. The website also includes Hough's tips for making a winning entry, plus other sample submissions from teens.  
Hough and a panel of judges will choose the top entries, and teens across the U.S. will have a chance to vote on their favorite nine.
Winners will be flown to Los Angeles where they'll meet their fellow winners before posing together for a Milk Mustache ad, to be featured as a special two-page spread in the pages of Seventeen magazine this fall.  They will also be able to write at the Power of 9 blog on Seventeen.com.
This is a terrific opportunity for any girl who wants publicity.
    
   
My Ideas on How to Use This Contest 
PR people, your clients' daughters might want to know about this.
Nonprofits, if your cause or issue ties into the topic of healthy eating, or girls, this contest is a natural for you. 
Schools, let your students know.
Girls Scouts, 4-H and Campfire Girls, tell your members.
If you blog about these kinds of topics, and your audience would want to know, share this with your readers.
Spread the news on Twitter and Facebook.
Drink up! And start shooting.