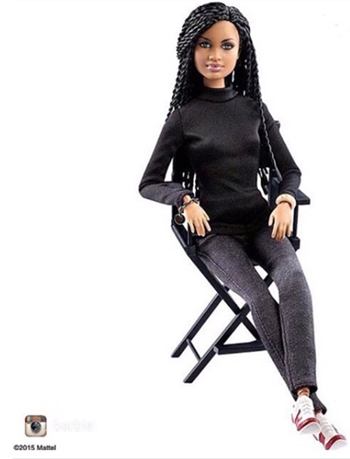 Fiction authors have the toughest job when it comes to generating publicity for their books. Too often, they can't recognize all the opportunities that breaking news stories are dumping right into their laps.    
Here's one. Smart authors who write fiction as well as nonfiction will pounce on it. This is known as newsjacking.
Publicity Hound Carolyn Howard Johnson, an author and book publicity expert, let me know that Mattel's new black Barbie doll sold out in only 17 minutes yesterday. Mattel produced the doll in April to represent Ava DuVerney, who directed the critically acclaimed film "Selma," so the doll could be auctioned for charity.     
Ava's 142,000 Twitter followers demanded more. Mattel manufactured a limited number but sold them only at their website and later on Amazon. They sold out immediately.
This reminded me of Roshanda Pratt's guest blog post that I published this week on How to Entice Your Local TV News Team to Cover Your Story. Roshanda, a former TV producer, recommended piggybacking onto hot breaking news stories.
What makes newsjacking the Barbie story even more timely is that Christmas is less than three weeks away. Here are my ideas on how authors can do that.  
Publicity Tie-ins for Fiction Authors
If your novel features black professional women, comment on how Ava DuVerney has become a role model not only for black girls but for girls who also want a career in movie production.  
If the main character of your novel is a black woman, what would she say about the demand for the doll? 
If you've written a mystery, poetry, action adventure, historical fiction or fantasy novel with black characters, you too can comment on the Barbie story. Is there a logical tie-in from the sale of the dolls to a topic or subtopic in your book? If so, mention it.     
Children's authors, there's room for you too. One of my clients, Jo Ann Kairys, is a diversity expert who wrote "I Want Cake," a new picture book that features eye-popping & colorful art, spunky, imaginative characters and a loving, inclusive, cross-cultural celebration of multi-generational families. I suggested she call her local TV stations, let them know about the black Barbie doll, and discuss how a lack of diversity in children's toys created demand for the doll. Jo Ann can then pivot to her own concern for a lack of diversity in children's books, and explain that that's one of the reasons she wrote "I Want Cake."    
Newsjacking for Nonfiction Authors
Diversity experts, this story is perfect for you. Offer statistics on the changing demographics of the U.S.
Career experts, every doll sold comes with a director's chair. Explain how this helps little girls realize their dreams of working in Hollywood or as a movie executive.   
Parenting experts,  what does the demand for the doll have to say about the lack of choices in the toy department for black, Asian, Hispanic and mixed-race children? 
Have you written a book on marketing? What can the Barbie story teach businesses of all sizes about how to listen to the market? And how is social media driving marketing decisions? 
The gorgeous face and braids on that doll! If you write about hair, beauty or make-up, weigh in.  
Have you written a book about things people collect? Discuss how Barbie collectors are probably responsible for many of the sales this week and how limiting the number of dolls manufactured affects prices years from now.  
If you can get your hands on one of these dolls, all the better, because it would make a great prop for TV. 
Now let's hear your ideas. How would you tie this story into your book?