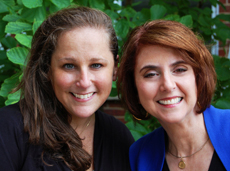 Diane Kline of St. Louis, MO, writes:
"I am the co-author of QuirkOut! Crazy Things Women do to Stay Sane.  It's a blog and weekly column, for women 20 through death, in the St. Louis Post-Dispatch newspaper on Sundays—sort of a Martha Stewart meets Tina Fey.
"We all have QuirkOut! moments. We just named them. They are quirky behaviors that help women of all ages get through our busy lives – such as taking three purses on an overnight trip or keeping shoes in the oven when we run out of closet space.
"We're trying to increase the number of Likes on our Facebook page at Facebook.com/quirkout and encourage women to submit their QuirkOut! moments to use on our blog. We occasionally feature some of these items in our Post-Dispatch column.
"We're hoping your Publicity Hounds can offer some helpful tips on how we can reach women by using both traditional and social media."