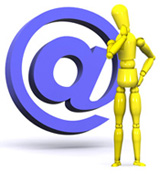 As more newspapers and magazines cut staff, don't be surprised if a journalist who you pitch—or one who finds you online—emails you and asks:
"I'm writing an article for The Daily Tattler, and I'm pressed for time. Is it OK if I email you questions and, if so, can you provide a response by the end of the week?"
This happens more frequently than you think.
In one of my PR groups on LinkedIn, there's an interesting discussion under way on this topic. Amazingly, some PR people hate email interviews. One group member says this is not the best way to establish a relationship with a journalist.
No, it isn't.
But whenever a reporter, editor or freelancer wants to interview me by email, I almost always say yes, and I've never regretted it.
Here are five reasons to love email interviews:
There's little chance you'll be misquoted. If a journalist wants to use what you've written as a direct quote, she'll most likely cut and paste content directly from your email reponse into the article.
You get extra time to craft intelligent responses. That means you can really think about the answer. You can also take the time to research the topic before responding.
You have extra time to research the journalist. Before responding, you can type the journalist's name into a search engine.  If you learn that a reporter blogs, you've struck gold! You can read the blog and make note of what the journalist covers. Then, later, pitch that reporter for a blog post or an article in the print or online publication when you have a story idea that's a perfect fit.
It makes you more helpful. Because you're not spending precious time with a journalist over the phone, you can offer additional information that you think might help the writer.  You can ask, "Do you need other sources?" or "Are you looking for photo ideas?"
You can include links. If you've written an article or blog post that the journalist will find helpful, share it. In a phone interview, you can tell the journalist where to find your other content, but what are the chances that a reporter will bother checking them out?
If the reporter is writing a story that could put you in a bad light, don't expect an invitation for an email interview.  These kinds of interviews are much more common for trend or feature stories.
Why I love this topic
I love this topic, by the way, because email interviews are laden with so many benefits that most Publicity Hound's don't realize. But I might never have written about it had it not been for the PR group on LinkedIn. I've started paying much more attention to LinkedIn groups and I hope you do,  too.
Wayne Breitbarth, a LinkedIn expert, will explain how to use the groups feature when he's my guest during the webinar Your LinkedIn Power Formula: How to Make Killer Contacts, Pull Crowds to Events, be a Star in Your Industry & Track Down Leads Like a Bloodhound at 3 p.m. Eastern Time on Thursday, March 3. Register any if the time isn't convenient because I'll send you a link for the video replay.
Where to meet journalists
This is important: Journalists, remember, join many groups on LinkedIn that they know are populated by sources and experts in the topics they cover. And in a LinkedIn group, you can communicate with a journalist or any other group member even though they might not be one of your first-, second- or third-level connections.
Hope to see you on the call on Thursday.