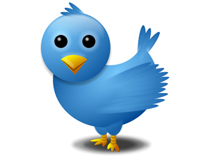 Here are my Top 10 tweets from this past week, great for retweeting! If you missed these, follow The Publicity Hound on Twitter.
Klout Score Dropping? Try These Fast Fixes
Here are 4 reasons your Klout score might be dropping, and how you can bring it back up. I've put them in the order of how easy they are to fix.
Understanding why people quit Facebook.
Researchers surveyed 310 people who opted out of Facebook by participating in the (online!) QuitFacebookDay.com campaign begun by users angry over the company's privacy policies. The changes included a service that allowed people to sign their friends up to groups without their permission.
Why paying for Twitter followers is almost as icky as paying for sex
With new "consultants" popping up all over the place guaranteeing you "2,000 new followers in 30 days" in exchange for your credit card number, I believe it's time to revisit the subject.
5 questions to ask before making a big announcement on a big news day
Here are five questions to ask yourself to help make the call.
20+ ways to promote the heck of your blog post.
Promoting your blog post is something you will still need to do constantly, even if you already have a consequent traffic.
5 YouTube SEO Myths That Need to be Exposed
Here are a few YouTube SEO myths that are proliferating the internet, and since they might be holding you back, let put them to rest right here and now.
Hangouts On Air Are Great But YouTube Live Is Better…
When Google Hangouts On Air (HOA) appeared on the scene I started gravitating toward using them.There were three things that I really liked about HOA.  First, they give you the ability to be on camera which allows you to make a better, more personal connection with your audience.
Facebook's New Promotion Policy: 6 Ways Brands Can Take Advantage
Facebook recently announced that it's now allowing brands to hold contests and sweepstakes within Timeline instead of requiring brands to host all promotions through apps.
Your Story Is Ready: Medium Experiments With the Homepage of the Future
The web is vast and full of text. What should you read?  The Internet's history resides in this question, a little. Google News trusts in what its algorithms turn up. Twitter endorses the social swarm; Facebook employs an ever-changing alchemy of factors, including number of likes and type of post. Sullivan, Drudge, Reddit, and Digg all have answers to this question, and, last week, we learned that the read-it-later service Instapaper does, too.
Google Reveals Major Update to Search Algorithm
Google on Thursday announced a handful of new updates to the company's search offering, including a major update to Google's search algorithm that the company calls "Hummingbird." The new algorithm affects 90% of all searches, and has been in place for about a month