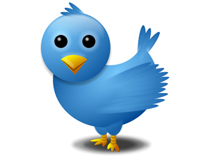 Here are my Top 10 tweets from this past week, great for retweeting! If you missed these, follow The Publicity Hound on Twitter.
Eight Reasons to Hire a Journalist in Your Marketing Department
Here are examples of a journalist's CV, listing the various daily duties and (in red) how those skills can benefit your content marketing.
Yahoo list says PR specialists will replace reporters
Public relations jobs are expected to jump 23 percent from 2010-2020, while journalism jobs are expected to fall eight percent. Yahoo contends that PR specialists will replace reporters sometime in the near future.
16 People Who Tweeted Themselves Into Unemployment
Twitter may limit you to 140 characters or less, but that's actually more than enough room to stick your foot in your mouth. These people know that firsthand.
Wacky Instagram alternative lets you have photos with stickers, captions & more
Instagram makes photos prettier. Molome makes photos funnier." This is the selling point of Thailand-based mobile photo startup Molome.
Authors: List of 23 gift shops in U.S. focused on state-related gifts and books
Most states have privately owned gift shops that feature products made in that state (or have other connections to that state). The following state gift shops should feature your books.
Reporter-speak: Words and phrases PR pros should know
The nomenclature of a newsroom shouldn't be a mystery. Mastering a few key terms will help you communicate with journalists, while bolstering your credibility among members of the Fourth Estate.
7 consumer trends to run with in 2014 [Piggyback publicity onto these]No matter what market or industry you're in, if you're obsessed with catering to evolving consumer needs, desires and expectations, you will prosper through even the most insane global upheavals, whatever their flavor.
Why is your Klout score not reflecting real-time social activity?
When it comes to social measurement Klout has been the leader since its beginning in 2008; and, is the first company to create a proprietary measurement algorithm on perceived social influence.
Five Twitter Accounts That Give Great Customer Service
At a time when 53% of all businesses in the United States are using social media as a customer service channel, it's time to take a look at the companies who are succeeding with Twitter as a primary customer service platform. The best practices and interactions used by the companies below go a long way with regard to extending their brand and showcasing their commitment to providing excellent customer service:
7 Tools That Make it Easy to Organize and Simplify Your Blogging Life
Let's face it, blogging is a ton of work. You've got to keep up with your social media profiles, create and organize tons of content (both in written and video form), and you've got to market like crazy just to stay relevant. And this is on top of our other duties. It's definitely a crazy blogging world we live in, but there's a way to tone down the craziness just a little bit.