Here are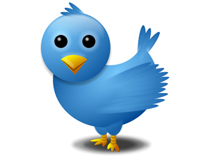 my Top 10 tweets from this past week, great for retweeting! If you missed these, follow The Publicity Hound on Twitter.
How to link multiple editions of your book on Amazon.
Have you ever wondered what happens when you publish a new, revised edition of your book (with a new ISBN) and make it available on Amazon?
City of Cleveland using Twitter to communicate with journalists about story of 3 missing women found.
As the story of three formerly missing women in Cleveland develops Tuesday, the city's Department of Public Safety is encouraging journalists to use Twitter to get credentialed for a press conference this morning.
Book marketing tip: Amazon lets you link to newer and older editions of your book.
Say what you want about how Amazon treats bookstore retailers and traditional book publishers. But one thing is for sure from my perspective … Amazon puts a priority on serving two types of constituents: their book-buying customers … and authors.
26 social media tips from the pros.
Are you looking for actionable tips to improve your social media marketing? Are you wondering what the common themes of social media experts are these days?
How to add video, photos to your LinkedIn profile. 
LinkedIn, the traditionally text-heavy social network for professionals, is getting visual with the launch of the LinkedIn Professional Portfolio, which lets you upload images, videos, presentations and documents to showcase your work.
17 reasons why you absolutely cannot afford to not be active on Google+.
If you're resisting Google+ because you don't have time, you don't have patience to learn it, or you don't think you need it, this should change your mind.
How to add a Facebook 'Like' button to every Google search result.
The web becomes more social every week as Google continues to evolve its search engine by rolling out  a new +1 button that attempts to play catchup with Facebook's social proof  efforts and Bing displaying search results with links that have been Facebook "liked" by your friends.
2 southern Calif. newspapers inviting the public to sit back and relax in their newsrooms.
The Pasadena Star-News and San Bernardino Sun in Southern California are inviting the public to sit back and relax in their newsrooms.
Twitter Vines get shared four times more often than online videos, survey shows.
Marketers love them some Twitter Vines—and for good reason, it turns out. Unruly Media's research reveals that branded Vines are shared four times as often as branded Internet videos.
3 great ways to show off in social media without annoying everybody.
As a word-of-mouth and social media marketer, it's your job to help those stories get shared. But before you e-mail everyone that news release or tweet that #humblebrag, consider how these beloved companies show off without annoying their fans and followers.