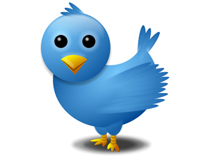 Here are my Top 10 tweets from this past week, great for retweeting! If you missed these, follow The Publicity Hound on Twitter.
How to Get Read: 8 Ways to Take your Blog From Existence to Greatness
There are lots of things that separate a great blog and great posts from the rest. What's in your must have factors for a great blogpost?
How To Use Slideshare To Market Your Book
SlideShare is a great and often overlooked social media site that has great potential for marketing your books. Creating a SlideShare presentation takes time, but especially since you can use the presentation multiple places such as on your blog, it's well worth the effort!
Don't ditch my pitch: 5 ways to get a yes from an editor
While pitching stories can be frustrating, these tips will make the process easier and make it much more likely that you'll receive a positive response.
Instagram beats Twitter with 300 million active users
Instagram has officially passed Twitter with active users, making the photo- and video-sharing app the second largest social media platform.
How to Find Good Topics for Infographics [VIDEO]
So you want to create an infographic, but you do not have a topic? You don't even know where to begin. Here are a few things to keep in mind that can help you get on the right path to finding a great topic that can not only tell a story, but educate your audience.
The Benefits of Blogging for Your Business
As common as blogs are, it's not so common to find a truly successful blog. So, in order to break through the hoards of them online, here are five ways to better host your company blog and the benefits that come as a result of following these pro tips.
Interview: Joan Stewart, Publicity Expert
2014's final InterviewFX feature is one you definitely won't want to miss! Today we're sitting down with Joan Stewart, aka The Publicity Hound, a publicity expert who has coached thousands of business owners, marketers, and entrepreneurs on the topic of making their PR efforts more successful.
6 Ways to Jump on Holiday Sales
While it's late in the season to be thinking of your holiday strategy, there are some great things you can still do to nudge sales in your favor.
5 Brilliant Ways to Get More Blog Social Shares
We all want more traffic and social shares for the content we create on our sites. So how can we get them? Easy… create content that provides value and is something that people actually want to share!
The subject line was irresistible
How a content strategist caught my eye with a perfect pitch.