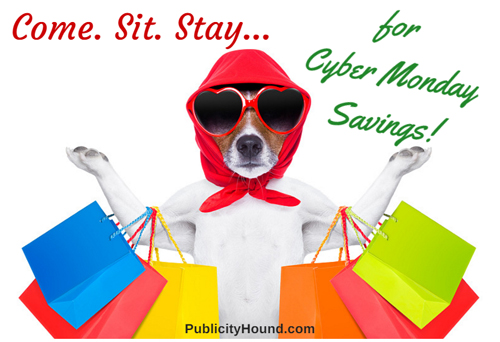 You love sniffing out deals, don't you? Here's one that will make your tail wag.
Today only, go to The Publicity Hound Store, choose any product–ebook, special report, video–and use the coupon code TREAT at checkout to slash the price in half.
Call it what you want:
–50 percent off
–2-for-the-price-of-1
–Or a Cyber Monday Blowout
If you've put off buying any of my training until a good deal comes along…THIS IS IT.
Save Time Shopping
If you're struggling with a publicity or book marketing problem and you're not sure which product is best for you, I'll be happy to help. Email me at JStewart@PublicityHound.com and tell me what you're trying to accomplish, and I'll make a recommendation or two.
Or start shopping now at The Publicity Hound Store and use the word TREAT at checkout.
If you're new to publicity, the very best deal is my Special Reports Value Pack, giant bundle of more than 52 PDF special reports that cover almost every aspect of your publicity campaign. You'll find them at the top of the list of products. 
Discount prices good only until midnight tonight Central Time.
Miss this one, and you'll be howling at the moon. 😥  
Head on over to The Publicity Hound Store.