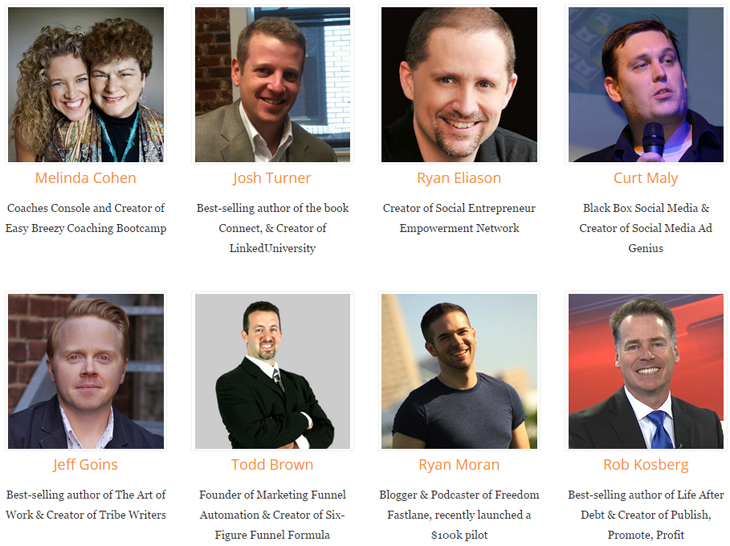 If you're thinking of diving into the world of online education, learn how to avoid making the same mistakes others before you have made.
Earlier this week, I explained the 5 mistakes I've been making when teaching online. You'll learn many more, but from the eight entrepreneurs you see above from noon to 8 p.m. Eastern Time tomorrow, Oct. 3. That's when Danny Iny of Firepole Marketing presents a live webcast to promote Course Builders Laboratory, the training course he's promoting on how to  teach big online courses.
Register for tomorrow's free webcast here.
Most of the entrepreneurs are in different niches. All build and deliver excellent online training.   
Tomorrow's webcast will pull back the curtain on how to build an online business that makes multiple seven figures with courses.
Here's a peek at what you'll learn when Danny interviews them:
Embarrassing mistakes they made during their early launches and how they switched gears and adjusted their initial offers to match what their customers actually wanted.
Tips on how they scaled their businesses. 
How they grew small courses into flagship programs that made more than $1 million per launch, and what they learned while doing it.
The exact method all eight of them used to create diverse products in different niches – yes, *the* method that works across industries, for novices and seasoned entrepreneurs alike (and *you* can use it, too)!
The broadcast will be eight hours. But if you have errands to run and other things to do on Saturday, you can choose the interviews you're most interested in.
I took Danny's Course Builders Laboratory in the spring and used the train to offer an Author Email Boot Camp. He promised I'd make $2,000. I made $7,500. The same guarantee applies to you.
I'm promoting the course as an affiliate, and I earn a commission if you buy using my link. It has my strongest "two paws up, way up" endorsement. If you buy and decide within 30 days that this isn't for you, he also has an ironclad, money-back guarantee. With those two guarantees, you can't go wrong.