Maintaining a Facebook Fan Page is a lot of work.
You need to attract targeted fans who care about your topic. You must consistently provide compelling content. And you should respond to every person who responds to you.
So how much is all this work really worth?
Find out with the Social Page Evaluator, which helps marketers determine the value of a page. Type your Fan Page URL into the window and it will calculate the valuation based on factors such as the number of fans, how often you post each day, and the number of times you interact with your fans.
A  chart lets you compare the current value and the potential value, based on activity from the last 30 days.  I measured the value of my publicity tips fan page and here's what it's worth: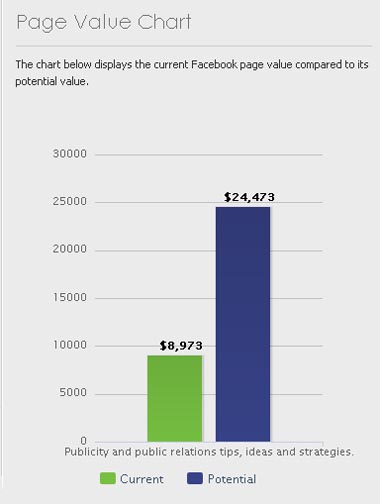 I like the fact that they make suggestions on best practices that can improve the value of your page.
Post frequency: "You may be posting too often or not often enough. Be aware of what content you would like users to see from your brand and how frequently you are posting." (I post several times a week, and I'm guessing that they think that isn't often enough.)
Post type: "You are already making effective use of multimedia and dynamic wall posts. The next step for you could be the use of wall apps for heightened engagement."
Short URL: "Having a branded, shortened URL would give your links more credibility and assurance to users that the link will redirect to a relevant page."
A"Fan-tasize" section lets you manipulate other features like number of posts per day, how often you reply to your fans, and the number of fans, to see how that will affect the value of your page. If you're looking for more ways to attract fans, see 11 Ways to Avoid Missed Opportunities on Facebook.
Curious about how your page stacks up to those of your competitors?  You can compare your page to up to three other brands at a time.
Be sure to sign up for email updates on your page's value.
The evaluator tool was created by Vitrue, the social media management company.