Don't you  hate it when you visit a blog, read a post, love the topic, and even before you get to the end, you know what comment you're going to add?
Then you reach the bottom of the post and you see this: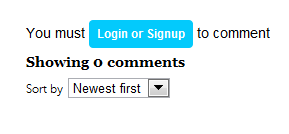 That's what happened to me just now when I read the article 10 Ways to Amplify a B2B PR Campaign by Wendy Marx at Fast Company's blog. I love her list! She invited comments. And I had four more ideas I wanted to add.
Sorry, but I'm not hanging around to log in because I can't remember if I have a Fast Company account. I'd have to dig around for my login name and password. If I don't have one, I'd have to register. And that's way too much trouble.
So instead, I'm criticizing the magazine and its dumb policy here.
Media outlets, by the way, seem to be the worst offenders. Many newspapers, which are dying, force the few visitors they have left to create an account before commenting at their blogs or websites. I'm a former newspaper editor. Before I left the business 17 years ago, I was appalled by the "screw you" attitude and awful customer service that permeates the industry.
My Ideas for Publicizing Your Publicity
Here's what I would have written at the Fast Company blog. These ideas work for any PR campaign, not just B2B:
When you've gotten national publicity, let your local newspaper, weekly newspaper or business journal know by submitting a press release. Go one step further. Pitch yourself and offer to explain how you got national publicity. 
   
Ditto for your college alumni publication.
   
Speakers, photocopy the article, with permission, and add it to your handouts.
   
Write a letter to the editor of the newspaper or magazine that just wrote about you. Discuss one or two points the reporter didn't include, or elaborate on a specific issue within the overall story. You get in front of the same audience twice!  If readers missed reading the original article, they'll see your name and company name in the letter.
Those are my ideas. Add yours to the list. Or explain why you think media outlets and others have idiotic policies that make readers log in.

A Tool That Can Help You
My Special Report #13: How to Recycle Your Publicity, has many more ideas on this topic. It was updated a few months ago.