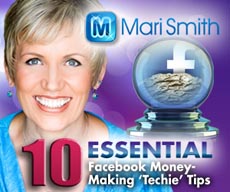 It's hard to decide which part of Facebook drives people craziest: The super-secret settings that nobody tells them about, or the difficulty for businesses to really gain traction and see a return on their investment of time.
I vote for ROI.
But then, I almost drove myself crazy when my Facebook fan page disappeared early last year. I finally got it back when I appealed for help on Twitter. Dave Kerpen of Likeable Media found a glitch in my settings and told me that only people in the Philippines could see my page. He fixed it in a jiffy and I was back in business. 
Part of the problem for many of us is that every time Facebook rolls out wholesale changes, it's like entering kindergarten at Facebook Elementary School because we have to learn how to use it all over again.
Mari Smith, The Queen of Facebook, helped more than 14,000 people understand Facebook's new timeline this week when she presented a free 90-minute webinar. It's called "10 Essential Facebook Money-making Techie Tips" and if you're at all confused about Facebook, I encourage you to watch the replay.
I'm promoting this as a compensated affiliate and I earn a commission if you buy her new Facebook product. I'm promoting it because way too many people, me included, find Facebook so frustrating.
Or, jump to the page where she's selling the product.
What part of Facebook do you find most frustrating? The secret settings, difficulty seeing ROI, or something else?