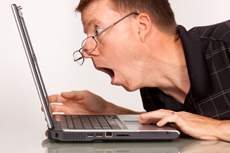 One of the most powerful tools for marketing your books is the treasure trove of online book review and book recommendation sites like Goodreads, AuthorsDen and Shelfari.
You can create a community of hundreds or even thousands of raving fans who will examine which books you've placed on your virtual bookshelf. They'll discuss, review and recommend your books. They'll ask you questions about your characters or plot lines, and sometimes hang on your every word.
But with the good, comes the bad.
   
   
Prepare for Negative Reviews
Somebody, somewhere, won't like what you've written and respond with a bad review that they believe is completely fair and accurate.
Resist the urge to respond! Here's why:
If you do, you'll most likely invite another comment from the reviewer that's nastier than the original. You won't be able to help yourself. Before long, you and the reviewer will be in a drawn-out debate that looks and sounds like sour grapes.
 
You'll come across as too sensitive, unable to accept criticism, and resentful. Do you really want your followers to see you that way?
 
You'll turn off other potential reviewers because they might fear that you'll come back at them with both guns drawn.
 
People don't all like the same things. Go over to Amazon and look at some of the best-sellers. You'll see negative reviews mixed in with reviews that gush about the book.
 
You might develop a reputation on blogs and discussion boards as an author who can't stand the heat.
 
Those public comments might show up when people, including publishers and journalists, do a Google search for your name or book title.    
   
   
What to Do Instead
Practice acceptance. Know that you are not alone. And move onto the next project.
If your'e still angry, walk away from the computer. Take a walk. Take a nap. Resist the urge to keep going back to the bad review and reading it again, hunting for any inaccurate morsel.   
Don't appeal to your fan base and ask them to write good reviews to "push down" the bad one. Don't ask them to stand up for you in the debate.   
Instead, read this lively discussion about "reviewer abuse"  on Goodreads.. 
As a publicity expert who teaches reputation management, I know how damaging these public squabbles can be. 
Am I wrong?