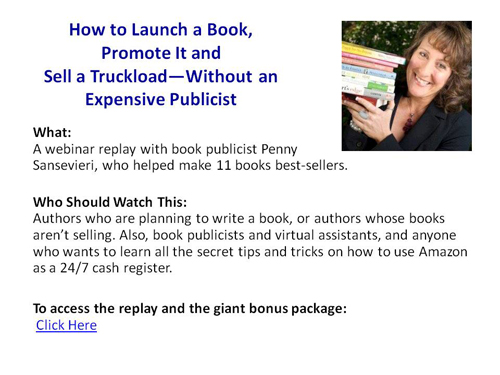 When self-published authors call me and want a referral to a book publicist, I always ask how much they've budgeted for a publicist.
They usually say: "Nothing" or "I haven't thought about that yet" or "I can afford about $300."
They're often shocked and disheartened when I tell them they need, at the very least, about $5,000 to launch their new book.
Authors who sign on with a publisher encounter much the same problem. Six months after their book launches, their publicist is long gone, and they're on their own. They, too, need to hire a PR person. And by that time, they've spent all their money. When book sales stall, they sometimes give up and concentrate on writing their next book.
What wasted effort!
What to do? Book publicist Penny Sansevieri will be sharing dozens of tips that have worked for her clients when she joins me from 4 to 6 p.m. on Thursday, Dec. 6, for the webinar "How to Launch a Book, Promote It and Sell a Truckload–Without an Expensive Publicist." We're recording it, so if you can't attend live, I'll email you the link to the download page where you can access the video replay and the huge package of bonuses.
During a recent trip to San Diego, I had coffee with Penny and we discussed the many calls we both receive from authors who can't afford a publicist. We started throwing around ideas on all the DIY things an author could do for publicity. And we eventually decided to team up for the webinar.
Here are some of our ideas which you'll hear more about on Thursday: 
 
1. Accept the fact that you CAN do it yourself.
You only THINK you can't. But you can. It will take a lot of hard work. Many authors have publicized their own books quite successfully.
 
2. Go after niche audiences instead of trying to promote your book to the entire world.
If you're targeting a niche, you can find bloggers, ezine editors, discussion boards, LinkedIn groups, Facebook groups, Twitter lists and other communities online and offline that will want to know about your book. Promote your book to the entire world and you'll be competing in a very noisy marketplace. 
 
3. Don't target only potential readers. Target librarians.
Librarians are ideal because they buy books. They also recommend books to their readers. And they write book reviews for their peer publications and for websites such as  Library Journal.
 
4. Become thoroughly familiar with Goodreads, the giant book review site.
Many of the 10 million readers on this site are reviewing and recommending books, searching for books to read, and checking out what their friends are reading. They're chatting in thousands of discussion groups and even debating story lines, characters and plots.
You can blog about your book at your own blog and then import your blog into Goodreads. My friend, book cover expert Joel Friedlander, told me his blog at Goodreads generates more comments than the blog on his own site—and the content is identical.       
 
5. Write guest blog posts for high-traffic blogs that reach your ideal target audience.
Danny Iny presented a free webinar for my Publicity Hounds in August on how to do this, and they loved it! He explained how to write a blog post in less than an hour, which should be easy for most authors. You can watch the entire webinar replay here. 
 
6. Stop wasting time trying to get big-shot book reviewers in major newspapers and magazines to review your books.
Book review sections are shrinking, and some publications have eliminated them altogether and pushed book reviews into the the features section. The big shots often shun self-published books.
Instead, target specialty publications that reach your target market. Those include print and electronic newsletters, industry magazines, trade journals and even other authors whose readers would love to know about what you've written. Many authors have blogs and newsletters and administer groups on LinkedIn.
A cookbook author, for example, might want to know about your book on food science. A Civil War romance novelist who blogs might be thrilled to learn about your biography on Civil War heroes. The opportunities are endless. 
 
7.  Create Google Alerts for your topics.
This one is a no-brainer. But go beyond the general topic of your book. Identify several sub-topics. Google Alerts are a great way to find bloggers who are writing about your topic and which media are covering your industry.
 
8.  Subscribe to free media leads services such as Help a Reporter, Reporter Connection and PitchRate.
If you're lucky enough to have an assistant or intern (or even a teenager), give them the responsibility of sorting through all the leads and forwarding the appropriate ones to you.
 
9. Always be marketing, and publicize your publicity.  
Authors can't rest on their laurels for one minute. If you get a media hit, turn it into multiple hits. Link to it from your website and blog. Write a press release about it. Let your alumni magazine know. Ditto for your local newspapers. Email your customers and share the link with them, or let them know where they can find the story about you.
If you like these tips, wait until you hear the ones that Penny will be sharing on Thursday.
"Amazon can work for them 24/7 – sort of like their own publicist," she said."There's some mind-blowing stuff on Amazon now and 99 percent of the authors don't even know where to start!"
Join us Thursday, and you'll know exactly where to start. (Update: The replay is available here.)