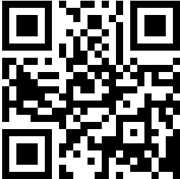 At first glance, it looks like a crossword puzzle that can appear almost as small as a postage stamp.
It's a QR code, short for quick response.  And it can be one of the most valuable tools in your PR arsenal.
QR codes, similar to bar codes that appear on packaged products, are used widely in Japan but are becoming a popular way for marketers to catch the attention of busy consumers.  You can find them on everything from the sides of buses to the backs of business cards.
Mobile phones that have bar code scanning applications installed can "read" the code, which can have URLs and other information embedded.  Within seconds, a visitor can arrive at your website to learn more about a product or service.  The code you see at left should take you to Google.com. Make sure your phone can scan a QR code with its camera, either with an application that you download or via software that's already installed on your phone.
   
  
How to Use QR Codes

Here are nine ways to use QR codes for publicity, PR and marketing:
Lead reporters to your online pressroom.
  
Point consumers to a press release.
  
Authors, use it to lead people to reviews for your books.
  
Speakers, use it at your website or on printed materials to send people who are considering hiring you to a short video demo.
 
Restaurants, print the code on your menus and let diners read about the specials of the day so they don't have to wait for the waiter.
  
Take consumers to a video that demonstrates tips for using your product or service.
  
Nonprofits, you can use them to send visitors to a donations page.
  
Save money on expensive printed fliers or paid ads by taking people to a web page where they can find the same information.
 
Save money on ads in newspapers and magazines by inserting the QR code instead of a lot of text
Don't Second-guess Your Customers
If you're thinking, "But our customers won't use this," consider that there are more mobile phones on the planet than personal computers.  If most of your customers aren't using QR codes now, they might within six months.  The ship is leaving right now. Hop aboard, or let your competitors stand at the helm.
I'll share more tips on QR codes, including how to get them and use them, during my webinar "60+ Places Offline to Promote Your Product, Service, Cause, Issue or Event to Build the Buzz and Encourage Others to Promote for You."  It's at 3 p.m. Eastern Time on Tuesday, Nov. 23.  The first 20 people who register get the free handout "13 Ways to Involve Journalists and Bloggers in Whatever You're Promoting."  Those first 20 seats will be gone by the end of today.
Let me know about offline tactics you use to promote, and send a photo if you can.  I can work the idea into my presentation and create even more publicity for you!
   
   
Promote Your Own QR Code Here
Do you use QR codes? If so, how? And what kind of response have you received?
Where can we find your QR code?