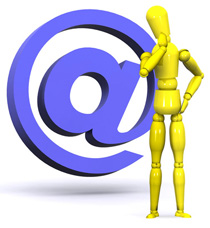 Artists frequently make the mistake of failing to capture email addresses at their websites because they can't think of anything to offer in return.
That's why I was gratified that on today's preview call for the smARTist Telesummit 2010, the annual virtual extravaganza on how artists can market their work, artist Melanie Banayat asked:
"What's the best way to use your website to build a mailing list? Internet marketers use lead capture pages to build theirs and offer something of value in exchange for someone's email address. What can an artist offer?"
Host Ariane Goodwin directed the question to me. Here's my list of nine freebies:
A video. Demonstrate how to do something. An oil painter can show how to blend colors. A needlepoint artist can show how to do a complicated stitch. A woodworker can show the best way to polish a piece of furniture. 
   
Special previews. Offer "sneak peek" previews of your artwork and other projects only to those on your email list.
  
A coupon. Offer a coupon good for X dollars off a purchase. The bricks-and-mortar stores do this all the time. A good shopping cart will let you create a coupon. Here's a free ebook on how to buy a shopping cart. (I'm an affiliate.)
  
An article. Think of the Number One question people ask about your artwork. Write an article on that topic.
 
A buyer's kit. Let's say you sell beautiful handmade jewelry. What's the best way to store it so it doesn't get damaged?
 
A flow chart.  Show the steps you follow to create something.
  
Quotations and jokes. If you paint horses, how about offering the top 20 quotes about horses? Or the 10 best horse jokes? You can find them free all over the Internet.
  
A trouble-shooting guide. If you sell beautiful clothing made of rich fibers, explain how to remove stains from the material. What can the buyer do if the material snags? What are some tricks on how to cover up a spot that can't be removed?    
    
A cleaning guide. How do you clean various types of artwork or things like delicate figurines, origami,  or beaded jewelry?
I offer a free cheat sheet on "89 Reasons to Send a Press Release" which you'll get when you type your email address in the box on the right side of this screen. I listed many more ideas in my special report that lists 55 free things you can offer to generate publicity or capture people's email addresses.
Once you start building a list, keep in touch with your readers by reguarly sending free tips and updates about your businesses. And don't forget to let the media know about the freebie you're offering. That's one of many ways that artists can generate publicity.
If you're an artist, or you're in any other type of business, what kinds of freebies do you offer in exchange for email addresses? Let's hear about yours.