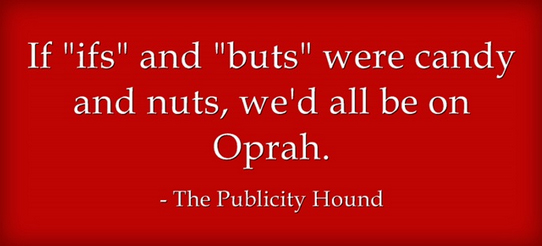 UPDATE: You can register to watch the video replay of this webinar, at your choice of times and dates. 
*     *     * 
So many small business owners keep making the same mistakes when trying to devise a publicity strategy.
They cobble together a bunch of tactics that never worked very well on their own, and they call it a "strategy." They fool themselves into thinking that, at some point, everything will come together, they'll get their lucky break, and they'll be on the road to success.  
Dream on.   
Tomorrow, during the free training session I'm offering on "7 Things Your 2014 Publicity Strategy Must Include," I'll explain why none of these seven things should be on your list: 
1. Bowing, groveling or genuflecting in front of professional journalists, hoping they will cover you.
2. Working hard toward your Ultimate Dream of getting onto OWN or any program associated with Oprah. (Authors, this means you!)
3. Relying on the "spray and pray" technique of sending out press releases as the major way to announce your news.
4. Playing the silly social media numbers game and trying to rack up as many Facebook fans, LinkedIn connections or Twitter followers as possible.
5. Promising to set aside 15 or 20 minutes a day to talk to those people.
6. Redesigning your website, with an emphasis on making it look attractive.
7. Writing a book, which will be your ticket to success.
Those are all tactics. And individually or collectively, they don't mean squat.
If wishes and buts were candy and nuts…we'd all be on Oprah.
I've identified 7 important things you must do to create a strategy that lets you be seen, heard, found, followed, recommended, studied and hired by people who need what you have. There are two or three things on my list you won't want like. I know. But they're imperative.
Join me for a free webinar I'm hosting from 3 to 4:15 p.m. on Thursday, Nov. 21, on 7 Things Your 2014 Publicity Strategy Must Include.
I'll explain what they are, offer lots of examples on how to incorporate them into your Publicity Plan for 2014, and I'll answer your questions. If I can't get to them on the call, I'll answer by email. Promise.
I'll also explain something I did this week (it's on my list of 7 things) that helped me get seen, heard, found, followed, recommended and studied by people who need what I have. Eventually, one or more of them will hire me. You can do it, too. I'll teach you how.