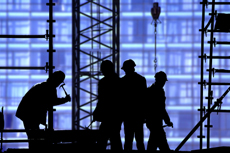 In this lousy economy, almost any construction project makes the front page of the local newspaper.
But you still need to think creatively when publicizing a building project.
A writer emailed me recently asking how her nonprofit could generate publicity for new construction. Here's what I suggested:
Think beyond traditional media.  Waiting for a newspaper reporter or editor to say "yes" is just wasting time.  Think of all ways you can publicize new construction, including using social media.
  
Explain how you're using green materials.
  
What hard decisions did you make to save money on construction costs?  This is a good angle, particularly during this time of "doing without" almost everywhere.
  
Take photos throughout the construction, preferably from the same location.  Turn them into a slideshow, upload to Flickr and share the link with the media, volunteers and donors.
  
Shoot a two and a half minute video explaining some aspect of the construction project.  You could interview the construction manager who can explain how the crew is making some aspect of the building studier, safer, or more attractive.  Upload to YouTube and other video-sharing sites.  Share on your Facebook page, and on Twitter.
  
Tie into the weather.  If you live in a cold-weather or hot-weather climate, call the local TV station and explain how construction crews work around, and in, horrible working conditions like snowstorms, sleet storms, heat waves, etc. This is a perfect addition to the TV station's weather story.
  
Don't forget to pitch local bloggers, or bloggers who cover the nonprofit sector.  They might be interested.
What have I missed? What clever angles have you used to publicize your construction  project? Provide the link so we can see what resulted.