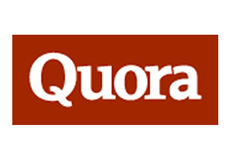 Update on April 1, 2011: Malanie Jordan has just written a helpful post that explains more about quora. See "Quora: 7 Reasons Why It's My New Best Marketing Friend."
The more places online where you can convince people you're an expert, the more attention you'll receive and the more traffic you can pull to your website and blog.
Add Quora to the list of online Q&A sites where you can really flaunt your expertise. It's a cross between LinkedIn's Q&A feature and Wikipedia. As soon as I created my Quora account last week, my email inbox was inundated with messages saying people are following me on Quora. That says something about the popularity of the site.
Quora is a continually improving collection of questions and answers created, edited and organized by everyone who uses it.  Quora wants each question page to become the best possible resource for someone who wants to know about the question.
Here are six reasons you should consider joining:
1. The site is gaining considerable traction, traffic and attention.
This morning, the question "What are some new blogs a start-up should send press releases to?" had 31 answers, many from experienced journalists and bloggers. I answered the questions, too, even though I haven't created my profile yet. I'll do that this afternoon. Profiles, by the way, can link to your website.
2.  Unlike Wikipedia, everything on Quora is tied back to a person.
Each question and answer has a revision history associated with it, and each change in the log is associated with the person who made it.  People use their real names and pictures on Quora and have a short bio describing who they are.
3. People can follow individual questions too.
That creates a waiting audience for anyone who wants to write an answer to the question.
4. It's easy to find questions on similar topics.
When you answer a question, Quora lets you know how many other questions have been asked on similar topics.
For example, when I answered the question this morning on press releases, I learned Quora has 63 open questions for public relations,   375 open questions on social media, and several other Quora accounts I should be foll0wing. I can follow them just by clicking on the "Follow" button.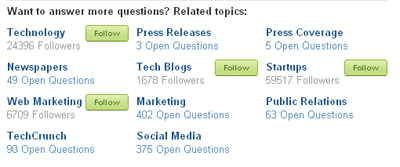 5. It will make you smarter.
What topic are you curious about? Search for it, and you'll probably find questions that others already have asked, and plenty of helpful answers.
6. Many journalists are using this site.
They're using it not only to look for sources, but to also answer questions.
Before you dive in, read 5 Questions to Ask Before Jumping into Quora. Quora might not be right for you, but if you want to be an expert in your field, it's worth experimenting with it.
If you use Quora, what have you discovered about the site? Has it helped you connect with others in your target market, or with journalists? Has it made you smarter? What else should we know about this site before asking or answering questions?