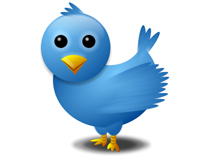 Here are five things to consider doing differently on Twitter this year.
They'll help you gain traction, see a bigger return on your investment of time, generate more retweets and gain more followers.
If you can't do all of these regularly, at the very least, start doing some of them once a week, and then increase the frequency as you become more comfortable doing them.
Rewrite your best tweets and post them at different times throughout the day. Don't let your followers miss a terrific article or video you're linking to, just because they weren't reading their feed at the exact time your tweet showed up.  
 
Why this is imporant: It will save you time because you won't always be searching for new content.
   
   

 Don't tweet identical information you're also sharing on Facebook and LinkedIn. You can share the same article or video, but rewrite it for each of the three sites.

Why this is important: All three sites are very different. And people might be following you on more than one of these sites and don't want to see duplicate content.
 

Every few weeks, go to your Twitter profile and click on "Listed" in the upper right corner. You'll see the names of all the lists that others have created and where you appear. It's a fascinating glimpse into how others view you.

Why this is important: It tells you whether your branding is on target. Let's say you're a book marketing expert. If you don't appear on any lists devoted to book marketing, something's wrong. Start sharing more solid content on your topic.
 

Make your tweets so compelling that they force people to click on links. A handy cheat sheet that I've printed and keep near my computer is Christ Garrett's 102 Headline Writing Formulas.

 
Why this is important: You cannot afford to write boring tweets! If I like content somebody else has shared on Twitter, but I think their tweet is lackluster, I rewrite it before retweeting. You'll find dozens of terrific rewrite ideas in Garrett's cheat sheet.

Create Twitter lists, with an emphasis on three groups: top experts in your own industry, top experts in the industries you want to target, and journalists and bloggers whose attention you want to catch.

 
Why this is important: You can import the feed from any of your lists into programs like Tweetdeck or Hootsuite and see, at a glance, content from the most important and influential people you've identified. Be sure to respond by retweeting it and replying!  (See "How to Use Twitter Lists & Directories to Generate Publicity and Build Your Brand.")
What Twitter resolutions have you made for 2012? Or, what's the one thing you're going to work on most diligently to become a smarter, more efficient tweeter?