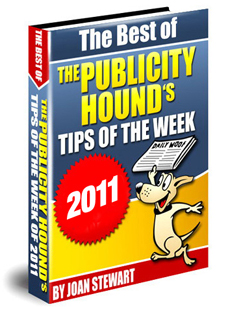 If you haven't made any resolutions for improving your publicity or social media efforts next year, promise that you'll steal at least one tip from this free ebook, "The Best of The Publicity Hound's Tips of the Week of 2011" and do it.
This is the seventh year I've compiled the very best tips from my weekly ezine and offered it to you as a holiday gift—along with my enthusiastic recommendation to regift it to your friends and clients.
Click here to download the book. (If you're having trouble, try a different browser or a different computer, or email Scott Buffaloe, my customer service manager, and he'll send it to you.)
Here's what you'll find in this year's book.
| | |
| --- | --- |
| | Social Media Tips Galore |
Tips on how to attract more Twitter followers by using Twellow, my favorite Twitter directory, to really drill down and identify people in your target market—and make it easy for others to find you
6 bios that need updating. Trust me. They're either filled with stale information, or your bios are missing key links for new social media profiles you've created.
3 strong reasons for joining groups on LinkedIn, and the recommended number of groups to join.
How to create a link for a Facebook status update so you can pull more people to your Facebook page. This still stumps many Facebook users.
3 ways to use Twitter lists to save time, get in front of influential bloggers who write about your topic, and start to build relationships with journalists.
A big no-no that several LinkedIn "gurus" are teaching about how to write your LinkedIn profile.  It looks bad, it smells bad and it can get you into trouble.
A  new feature on YouTube that lets you edit your videos right in the browser!

Where to find a valuable template on how to write a product review that you can share on the social media sites or at your blog.
Where to find "52 Headline Hacks," a handy cheat sheet for writing blog posts that go viral, or headlines you can use on articles.
| | |
| --- | --- |
| | Publicity Tips for Traditional Media    |
An important reminder if you're planning an event so you don't blow a big chance at publicity in a magazine.
6 ways to avoid corrections and what to do if a mistake in your press release or article slips through and ends up being published.
The one word to never use when you're talking to journalists.
Angles for news stories you can pitch so you can get onto the most watched TV newscast of the entire week on your local station.
Why press releases are usually ineffective if you want a journalist to cover your story—and the one thing that works instead.
3 types of publicity photos that scream "We're lazy. And we don't mind boring you with this photo."
The one person to follow on Twitter who can provide lots of hot leads from traditional media who are looking for sources to interview.
| | |
| --- | --- |
| | Tools for Online Publicity |
A hyperlocal website that's begging for neighborhood news in 16 bigger cities in the United States. This site is perfect for news from clubs and civic groups, schools, nonprofits, churches, political campaigns and neighborhood groups.
A news powerhouse that you should be pitching because its stories get high rankings on Google News and Google Blogs. You'll also find a link to a valuable video that explains exactly how to pitch.
A local publisher that wants news from hundreds of communities in 19 states in the United States. They're competing with local newspapers for stories, photos, videos and ad dollars.
4 tips for creating your 2012 Publicity Plan for online and traditional media.
| | |
| --- | --- |
| |  Tips for Building Your Business & Nonprofit |
Where to find step-by-step instructions on how to format a book for the Nook, the Barnes & Noble ereader, and Amazon's Kindle—sometimes in less than 30 minutes.
Where to find detailed instructions on how to produce webinars that sell your products and services. Includes a recommendation for what webinar company to use.
Nonprofits, 9 ways to make it easy for people to donate at your website.
If you like these tips, you'll love the newsletter. Today's issue will be published this afternoon and it includes a cute dog video. "Craigslist: A Valuable Publicity Tool.".
Merry Christmas, Happy Hanukkah and a very Happy New Year!