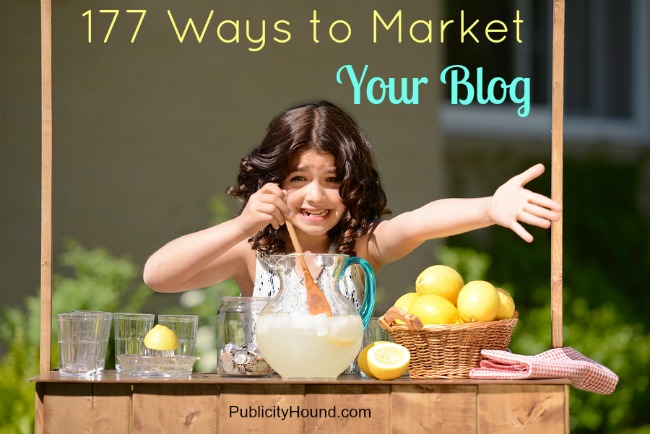 Too little traffic at your blog? Too few readers? Almost no comments?
If you need blog marketing ideas, you can spend the rest of this year experimenting with the bundle of them at the FirstSiteGuide.com blog where 59 experts reveal their three best marketing tips.
I'm thrilled to be one of the experts. Before I share my tips with you, let's look at a three ideas that kept reappearing on the list:
1. Write often.
The experts recommend writing at least twice a week. I agree. Do I always follow my own advice? No. But I usually do.
If I fail to post for a week or so, I don't panic. I jump back on track as quickly as I can and keep writing.
2. Collect email addresses at your blog.
This was one of my three ideas.   As I explained: 
"The gold isn't in the blog. It's in your email list that includes names and email addresses of people who have given you permission to market to them. Use a reputable email management company and create an opt-in box in the margin of your blog so that it shows up on every page of your blog.
"Email helpful tips and other industry news regularly, at least once a week, and be sure to make your email subscribers aware of your new blog posts. Follow the 80-20 rule of content/promotion. Include a second link from your homepage that leads people directly to a landing page that explains exactly what they'll get if they sign onto your list."
I use and love AWeber for email marketing. You can get a 30-day test drive by using this affiliate link. Why AWeber? Because their phone support is the best on the planet.
Right now, I'm offering a Cheat Sheet for authors on "10 Ways to use Email to Create SuperFans Who Help You Sell Books." Based on the questions I'm receiving, many authors don't want to send email "because I already blog and I'm disappointed my blog isn't getting more traffic."
The 177 blog marketing tips I linked to above will help solve the traffic problem. As for emailing, you can't assume that all your fans know you blog, or visit the blog daily.
An email list is the only "container" I know of where I can have all the names and email addresses of fans who want to hear from me in one handy place. And unlike my Twitter account or Facebook page, I own my email list. No one can take it away from me.  
A blog pulls traffic. Email pushes out a message. That pull/push strategy is powerful!  
3. Offer solid content to promote your expertise.
Dave Davis of RedFlyMarketing.com wrote:
"Give away the family jewels. Online, there's so much competition, the best way to differentiate yourself is to give away your knowledge and ask for nothing in return. If someone is looking for an expert in your industry, chances are, there's hundreds to choose from. Most people will go with the expert they see has demonstrated that they know their stuff." 
But what if competitors steal your content?
That's an outdated concept, Dave says. "The first to share their expertise and be transparent about their expertise in an industry automatically become the market leaders (in mind-share at least, the rest will follow)."
My 2 Other Ideas
#2: Pay attention to questions people in your target market are asking. That's a tipoff to topics that would make excellent blog posts. The two best places to look for questions: in your email and in LinkedIn groups. You'll also find questions about your topic at Quora.com, the giant question and answer site.
#3: Repurpose your blog posts by rewriting them and publishing them to your LinkedIn profile–a great way to promote your expertise. Google frowns on duplicate content, hence the rewrite. I'm getting more exposure for some of my articles on LinkedIn than I am for posts at this blog.
I guess I need to start trying the blog marketing tips from the other experts.  
Use Blog Templates
I'd be remiss if I didn't tell you about the special offer that Joel Friedlander and I have going on right now, on a package of 17 Amazingly Simple Blog Post Templates for Authors. 
Many of them can be used by people in almost any occupation. You can grab 17 templates for only $37. Or get five additional bonuses for only $67 for the whole package. But you must act by 11:59 p.m. Pacific Time on Friday night, May 29.
Many of these templates can be used over and over again. You don't always have to start from scratch.
We're even offering a commercial license for the templates bundle, perfect for if you're ghostwriting blog posts for clients.   And if you don't have a blog yet, checkout FirstSiteGuide's blogging guide.
Always Say "Yes" to Lists Like This One
Every few months, someone invites me to offer my best tips on a topic for a wrap-up similar to the one on blog marketing tips. Most of the time, I don't know the people who are asking me.
Regardless of how busy I am, I always try to say "yes."
Being included on lists like this gets me in front of the audiences of the other experts on the list because I know they'll be promoting it. Many of those experts have huge audiences. These round-ups, by the way, get lots of Likes, Comments, Shares and eyeballs.
That's one more tip to add to the list of 177.