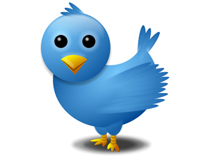 Here are my Top 10 tweets from this past week, great for retweeting! If you missed these, follow The Publicity Hound on Twitter.
12 ways to create a mailing list that will sell books
The key to a good newsletter list is simple really and the biggest piece of this is you've got to have something useful to say. While your friends and family might enjoy hearing about your latest book signing, people who happened onto your site and subscribed to your ezine might become bored with this information and unsubscribe.
What PR pros should know about the Supreme Court's Facebook case
This is a milestone in social media litigation, and whether it's for personal or brand use, PR pros should monitor the case closely to share findings (and suggestions) to keep company employees of all levels out of trouble on social media.
How to use this helpful social media cheat sheet when planning your next event
Sample Social Media Plan for Events was created by the folks at Marketo, a digital marketing agency. You can see an easier-to-read version of this in The Definitive Guide to Event Marketing, a free 120-page event marketing workbook that you can get in exchange for your email address.
The Art of Social Media for Writers
Writing a great book is just part of the equation, your social media platform is where readers will get to know you, find out about what you're writing, and could determine the success of your book sales.
Goodbye, SEO: PR is the new king
Remember to find what's truly interesting about your piece and ask yourself if it's it really news, or just puff. If you don't, you'll find out soon enough when your press release spreads or flops.
Is it Time to Burn Feedburner? Yes! There are Alternatives
The essence of our research: there's not one solution for all. It all depends on what your needs are. Feedburner is not working anymore, and it's time to do the switch. Feedblitz (inexpensive) and Feedpress (slightly more expensive, but more features) are the way to go.
7 Ways to Think Like a CEO on Social Media
Tying social media to business outcomes is less likely to become a monthly or yearly nightmare to endure. It all comes down to your mind-set.
The worst media disaster of November 2014
September was quite a month for media blunders, but this one from a former pro athlete was the most bombastic of the bunch.
How to Write a Blog Post in Just 30 Minutes
Here are some ideas about how to keep the actual writing part short and sweet and make the whole process a good use of your time, whether you are at a growing startup or make up a one-man-band.
Free Graphics for this Holiday Season
Websites where you can grab free holiday graphics and use them on your websites and in your marketing.