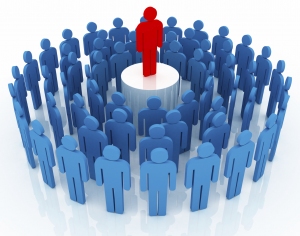 With a few exceptions, the Groups function on Facebook has proven to be a monumental time-waster when it comes to promoting your expertise and your business.
That's because Groups have turned into a haven for spammers and many scam Faceboook groups continue to proliferate.  Unless a Facebook Group is really serving your needs, you'd be wise to spend the majority of your time on your Fan Page.
Not so on LinkedIn.
Wayne Breitbarth, an expert on how to use the world's top business networking site, says his research shows that LinkedIn users rate groups as the second most important part of LinkedIn.  (People-searching is rated the most useful function.)
Groups are very easy to join, and Wayne recommends that you join several dozen.  That's right—as in 30, 40 or even 50!
5 Reasons Why LinkedIn Groups Rock
Groups make it easy for people to find you.
Joining groups in which your customers, suppliersior vendors hang out is a powerful way to connect, answer questions and share expertise and resources.
You can promote an event you're hosting to a group of people who have the same interests, even if they aren't connected to you.  I get lots of LinkedIn invitations from people who I meet in Groups.
Within groups, you can search for people who you want to connect with and communciate with them, even though you aren't connected yet.
The names of groups you've joined show up on your profile, letting people know that if they want to contact you, they can join one of those groups.
But don't just join groups. Participate in them.
Still need convincing?
Join Wayne and me for a webinar on March 3 on "Your LinkedIn Power Formula: How to Make Killer Contacts, Pull Crowds to Events, be a Star in Your Industry & Track Down Leads Like a Bloodhound."  Inc. Magazine is so impressed with Wayne that the magazine has invited him to speak at its Growco conference April 6-8 in Las Vegas.
LinkedIn isn't the same social media site you might have joined three years ago.  It's all grown up, and it sports a variety of new apps, features and tools that can really put you in front of the most influential people in your industry quickly.
Wayne is the author of the forthcoming book, "The Power Formula for LinkedIn Success–Kick-start Your Business, Brand and Job Search."  This guy really knows his stuff.