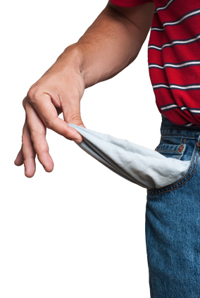 I've seen this happen repeatedly and it breaks my heart every time.
An author ties up three years of her life and takes out a second mortgage on the house to write, publish, distribute and promote her  book. If the book fails, she fails. And she has nothing to show for it.
That's how poor authors do it. 
Rich authors use the book as a calling card to upsell readers to a wide variety of other products and services like coaching programs, board games, wall calendars, membership programs, and more.  That's one of the key differences between rich authors and poor authors.  
Learn the other six at a free 75-minute telephone seminar hosted by Steve Harrison of Radio-TV Interview Report, at your choice of two times: 2 or 7 p.m. Eastern Time on Thursday, Sept. 20. The call is free. But I promote it as a compensated affiliate because I've seen hundreds of authors miss this important distinction and tie up their life's savings in cardboard boxes of books they can't sell.  
Register for the call, "How to Achieve A Lot More Success As An Author By Discovering The Seven Things Rich Authors Know That Poor Authors Don't."