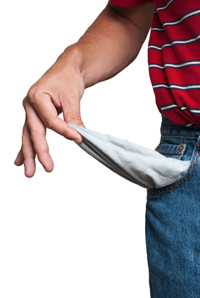 Why would anyone who wants to be taken seriously advertise their Hotmail and Yahoo addresses on their business cards?
When I see those addresses, I think "cheap."  
The sin is even more egregious when an author commits it. Authors need to position themselves as experts in their field. Everything they do should communicate authority, self-confidence, dedication to their craft, and attention to detail. 
 
Authors, You Can't Afford This
When I returned recently from Publishing University, hosted by the Independent Book Publishers Association,  I had 125 email addresses of authors who attended one of my three sessions and signed up for my newsletter. I was astonished at how few authors use domain-level, branded email addresses.
More than one-fourth were free email addresses like Hotmail, Yahoo, Gmail and AOL. If you're just getting started in business, you can be excused if you don't yet have a website. But it's so darn easy to buy a domain name for about $10, connect it to a free WordPress blog, and pay about $9 a month for hosting.
Instead of advertising their brand name, some authors' email addresses advertise their Internet service providers like Cox, BellSouth and Earthlink. What a missed opportunity! 
   
   
Yes, People DO Notice
Visible Logic, Inc., a branding firm in Portland, Maine, reported on results of a survey it took on people's perceptions of free email addresses. Its findings are published in the White paper Your Business Email Address Matters More Than You Think. The survey shows that seven out of 10 respondents think a non-domain-level email address looks unprofessional. And the firm asks a good question: "Would you hang somebody else's sign in front of your business?" 
This problem also spells trouble for Publicity Hounds who are pitching bloggers and the media, even if you've taken the time to thoroughly research the journalist. If you're pitching yourself as an expert source for a story, that AOL address might send a subtle signal to a reporter that you might not be worthy of an interview, or even a call.
If you're among the guilty, commit to ditching the free address this week. Buy a domain name from a company like HostGator (affiliate link) and finally get serious about your business.