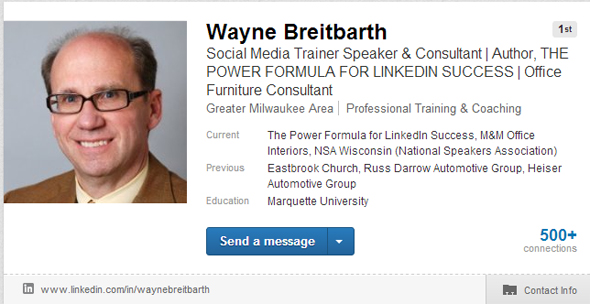 When LinkedIn removed several apps recently that users loved, like Events and Answers, it added new tools and tweaks that now give you the ability to strengthen your profile and wow visitors on the world's #1 business networking site.
Picture a spiffy front window in a department store with well-dressed mannequins, colorful props and an eye-catching backdrop that demand attention. What does that window do? If it's done correctly, it pulls you inside the store to shop.
LinkedIn's newest and most powerful feature called The "Professional Gallery" on your Profile Page lets you pull visitors to your website, blog, YouTube channel, or wherever you want them to go. It lets you put best foot forward and emphasize the most important parts of your career or your very best work in a way that really differentiates you from your competitors.
The gallery encourages people who see your profile to do business with YOU, and not with THEM.
You can share links to various media such as your videos, images, documents and presentations. The links can be placed in your Summary, Experience and Education sections.
Scroll down all the way to the end on LinkedIn expert Wayne Breitbarth's LinkedIn Profile and pay attention to all the things you see when you arrive at his page.  
"I like this much better than the old applications features, because the hyperlink is displayed right in the applicable profile section," says LinkedIn expert Wayne Breitbarth. "And adding information to your Professional Gallery is fast and easy."
That's just one of the many new changes on LinkedIn. When I saw Wayne a few weeks ago at a business meeting, I heard him speak briefly about all the new changes on LinkedIn and I was astonished at how quickly that site is changing. The new features let you do some really powerful networking and savvy promotion. That's when I decided to invite Wayne back for his fourth webinar with me on LinkedIn. 
Join us Thursday, Feb. 7
He can't explain all the new and improved features in only an hour, so we're devoting two hours to this webinar, and giving you time to ask LOTS of questions. It will be from 3 to 5 p.m. Eastern Time on Thursday, Feb. 7.
Wayne will go live on the Internet so you can see exactly what he's doing and how he's doing it when he presents "LinkedIn Update: What's In, What's Out and Under-the-Radar Tricks to Help You Crush It in 2013."
If you've made other plans for that time slot, you won't miss anything. I'm recording the webinar and I'll send you the link to the page where you can download the video replay and the big package of bonuses, including my checklist on "103 Powerful Calls to Action" that you can use throughout LinkedIn.
If you want to start rebuilding your Professional Gallery right now, that's fine. But don't miss out on Wayne's handy, dandy tricks like how to use your LinkedIn profile page to capture email addresses. And he'll also demonstrate an improved LinkedIn tool that lets you track down people from your past who would be ideal clients and customers.   
Wayne's previous three webinars have been huge successes. Just look at the long list of testimonials from happy Publicity Hounds who LOVED his content. Register here before all the seats are gone. 
This one will sell out fast.