If you're new to publicity, I'll bet you're making this mistake.
You're "spraying and praying."
That's the phrase we use to describe DIY publicity seekers who spray a pitch or a message to the winds, or to a list of 300 contacts from a big media list, and then pray someone responds.
Often, there's silence.
That's because you've sent the pitch to hundreds of people whose target audiences are very different. If you think the pitch will appeal to everyone, it will actually appeal to no one.
That was one topic I discussed when Pat Lynch interviewed me for a show on WomensRadio. It's less than 10 minutes. Listen to How to Get Promotion Tips and Tricks from The Publicity Hound.
What to Do Instead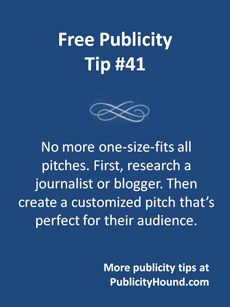 As I mentioned during the show, you'd be far better off targeting only three journalists, bloggers, reviewers or websites that might be interested in your story or content. But before doing that, take the time to do your research so you know a lot, or even a little, about the person you're going to pitch.
I've written here about how to research magazine journalists by Googling their names. I even demonstrated how to find the name of a blogger's dog or cat in less than 60 seconds and weave that information into your pitch. You'll find a lot at this blog on how to research before pitching.
When Pat interviewed me, I shared one of my favorite tools for creating content and killer headlines. We also discussed why anyone who needs publicity should become an expert and promote their expertise.
Enjoy the show and let me know what you think.
The show, by the way, is powered by Audio Acrobat, a subscription platform that lets you do dozens of things with audio and video, from recording a simple phone call to posting audio and video to exclusive WordPress sites. You can take a 30-day test drive using this affiliate link.