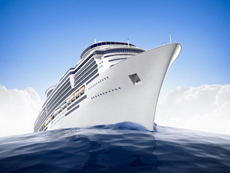 Right now, as you're reading this, program coordinators for luxury cruise lines all over the world are reviewing the materials they've received from speakers who want to get booked to speak on next year's cruises.
There's still time for you to submit your materials and take advantage of the greatest gig on the seven seas.
Here's how it works

You furnish the cruise lines three or four 1-hour lectures on subjects you love, from business topics like leadership and time management to fun topics like how to perform simple magic tricks or cook up a gourmet meal on a tight budget.
In exchange for your lectures, you get a free cruise for yourself and a companion.  Since the lectures are usually scheduled on sea days, you'll have every port day totally free to explore.
Swarms of speakers apply for these coveted slots.  But most of them make several critical mistakes that kick them out of the running.
Free webinar Friday
Daniel Hall, who has more connections to cruise ship program coordinators than anyone else on the planet, will explain more about how to stay on the short list of speakers and get hired when he presents a free webinar with me at 3 p.m. Eastern Time on Friday, Nov. 5.
It's called "Speakers Cruise Free: The Opportunity to Trade Your Talents for Luxury Cruises."  I know Fridays are bad, but I told Daniel I didn't want to wait until next week because program coordinators are hiring people RIGHT NOW.  And I want you to have a fair chance to be chosen.
Grab your spot for Friday's webinar here.

After you sign up, you'll be redirected to a page where you can watch a video Daniel created in which he starts sharing great tips immediately.  It will whet your appetite for Friday's webinar.  You'll then receive information via email on how to participate in Friday's program with Daniel.
Here's what you'll learn:
How to get free cruises for yourself
How to get all the same perks as the passengers who are paying full fare
How to get shore excursions on certain itineraries
How to sell your own books and other products on board.
Don't miss this one!
P. S. Daniel sometimes throws in bonus information so you'd be smart to clear your calendar for several hours on Friday afternoon just in case he comes up with something extra.