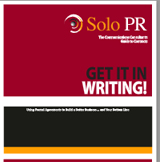 If you're setting up shop as a PR consultant, and you've got your first client, one of the most perplexing problems is obtaining sample contracts, or writing a contract from scratch.
But what if you don't have the start-up money to consult with a lawyer? Problem solved.
Kellye Crane, of Solor PR Pro, and Jenny Schmitt of Cloudspark, wrote the free, 30-page ebook called Get It In Writing, The Communication Consultant's Guide to Contracts. Just click on the link and download it. No opt-in needed.
This is the most comprehensive free book I've seen on this topic, and consultants who work in any area of communications will save themselves weeks of research. The authors advise that you eventually talk to an attorney when using a contract, but if you're short on cash, this book will at least get you started. 
It includes:
Simple letters of agreement. I've always abhorred contracts and most clients do, too. Letters of agreement are so much simpler and less intimidating.
  
Full contracts
    
Performance agreements
  
Subcontractor agreements
   
Nondisclosure agreements
   
The authors list five "gotchas" in client-provided contracts, such as insurance requirements and a payment schedule that won't work for you, and advise you on how to deal with each of them.
You'll also find a list of frequently asked questions. If you consult in any area of marketing, take a look at this book.

And to Get More Clients…
Now that you have the documents you need, start positioning yourself so that potential clients can find you. And use a variety of marketing techniques to find them. I hosted a teleseminar with Marcia Yudkin a few years ago on 24 Ways to Attract Clients to Your PR Practice.

Are Your Proposals the Problem?

If you consult in any area and feel like a proposal-writing factory, with a poor close rate, I highly recommend the book How to Write a Proposal That's Accepted Every Time by Alan Weiss, the million-dollar consultant to Fortune 100 companies and to other consultants. It's $149, but worth 10 times that price.
It does not include boilerplate or legal contracts but focuses, instead, on establishing a proposal based on value in collaboration with the buyer, so that proposals are summations, not explorations.
When I started following the advice in this book, my close rate skyrocketed. So did my consulting fees.

Watch as Alan tells you more about what you'll learn: